03/15/20
Russ McKnight had a great time fishing with us this week as you can see from his pictures.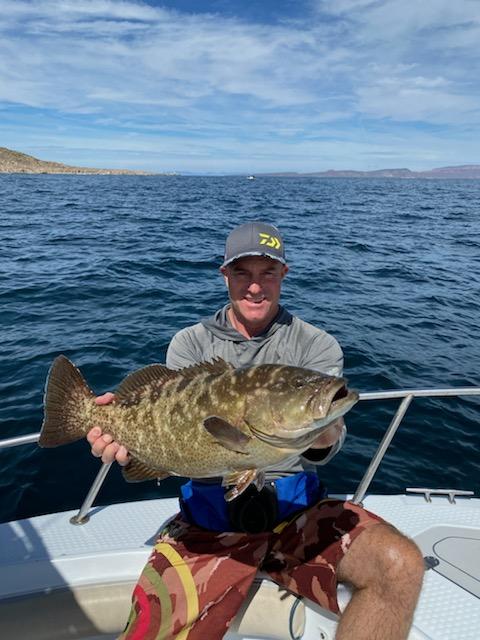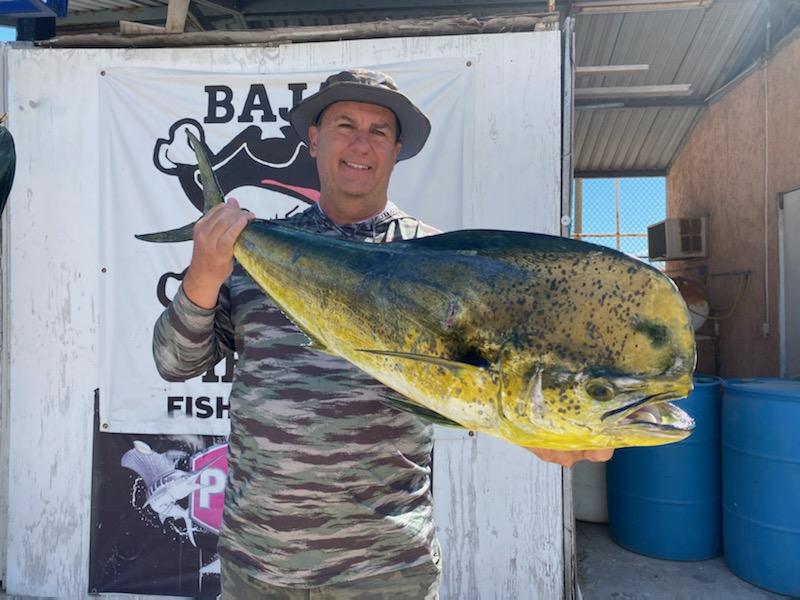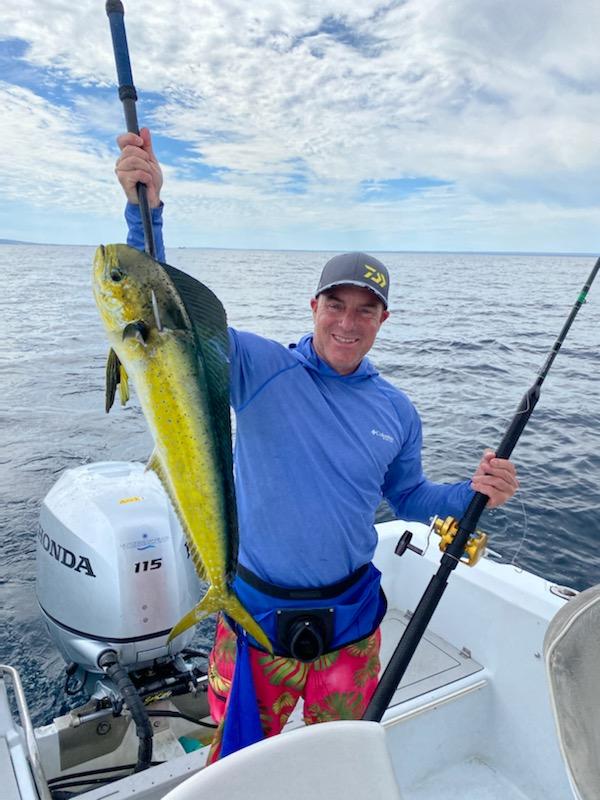 03/12/20
Jason Shearer shows off one of the Dorados he caught today.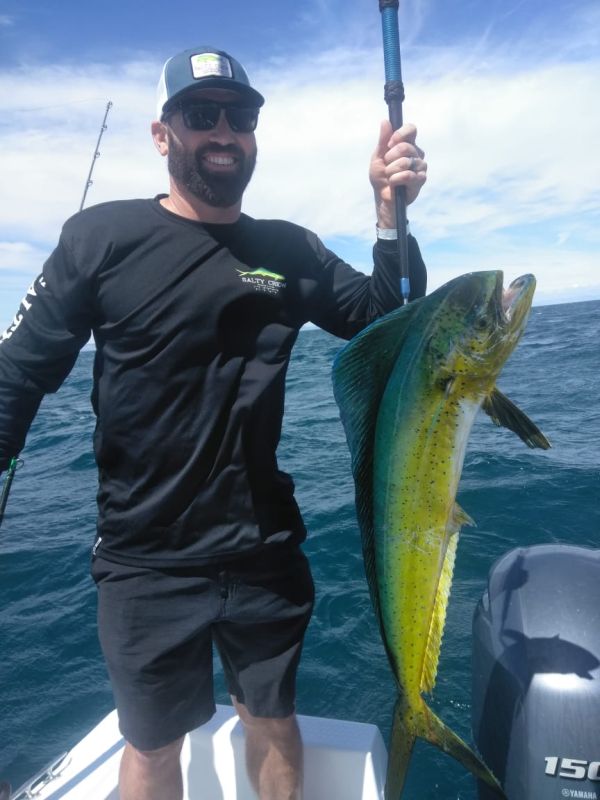 Derrick Wyatt also shows off one of his Dorados caught today.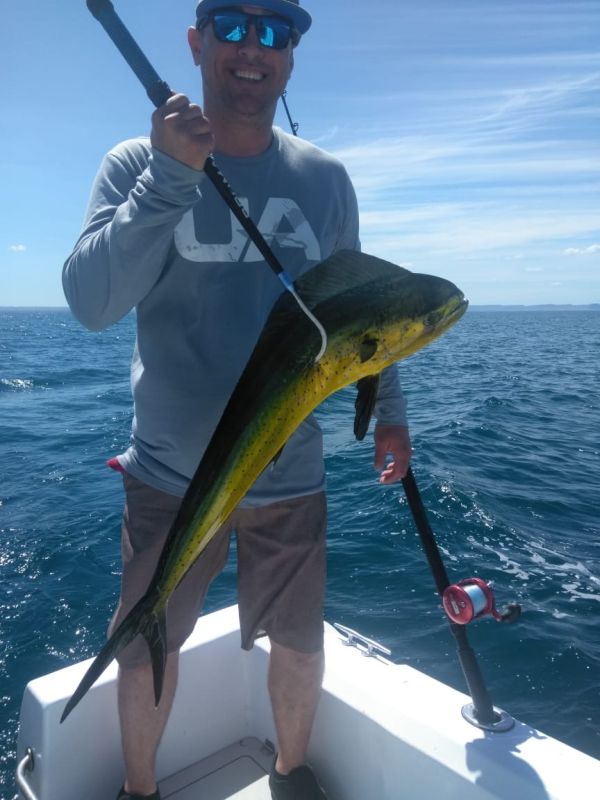 03/11/20
The guys from Mid Valley Construction loaded up on Dorado today.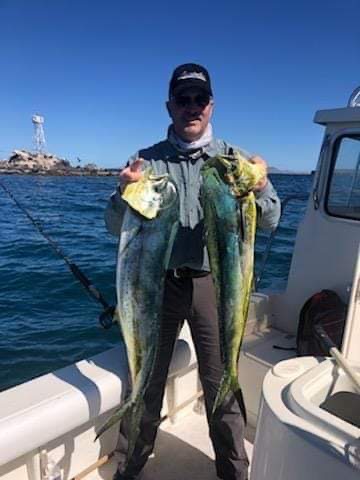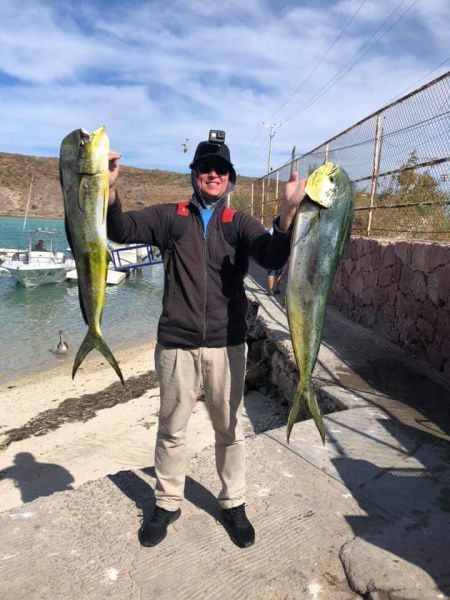 The first photos of clients have arrived and this one shows two happy guests with their bags packed with 27# of cleaned and frozen dorado. We have had several groups fishing ahead of them who didn't want us to take photos and we missed the opportunity to take these two guys' catch before they were cleaned. We will try harder to take ane show more of clients catch in the future.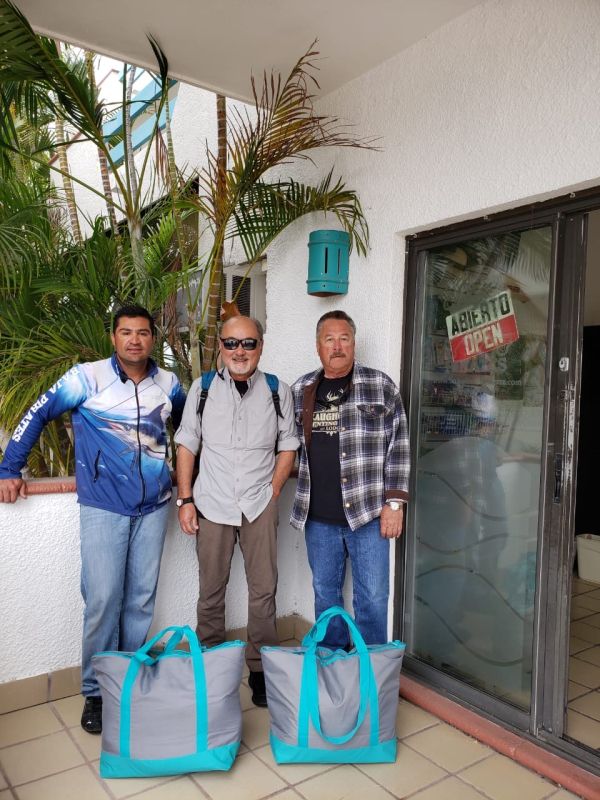 2020 Season Starter Report
The Baja Pirates fleet has been working this month preparing boats and gear for the spring season here in La Paz. Part of this preparation includes fish scouting trips when the wind settles. Last week Captain Luis and Captain Rico were out checking on bait and water conditions and the news is good. They found sardines, green mackerel and cosineros were in abundance within a few miles of our dock. Of course they couldn't resist a little fishing in the channel. They caught several nice 12 pound Dorados and chased a Marlin who was so full of bait he just wouldn't bite. Good signs this early so close to Pinchelinque and during a full moon phase.
Water temperatures are in the low seventies which is normal and the water is fairly clean. Outside air temps are in the mid 50's at night with pleasant daytime temps in the mid to upper 70's. In the next few weeks we will begin looking for the yellowtail and big snappers we are known for.
Whale shark trips here in La Paz have also been very good so far this year. There are several big sisters inside the bay and a couple of calfs with them. These fish are awesome and have provided quite a show for our whale shark clients. Everyone who has been out see them has returned tired as the calfs swim much faster and require some effort to keep up with. The Gray whale migration in Lopez Mateo is now in full swing. The whale numbers are down for the early season but we are all hoping more will arrive next week.
Reports from Las Arenas are mixed. Early February provided some excellent fishing for snappers, sierras and smaller sized yellowtail although the full moon seems to have slowed the action this past week.
On a final note there appears to be a new 360 peso "ecology tax" now being collected at the Los Cabos airport upon departure. Presently this is being called a voluntary tax and Captain Rico will check it out next week on his return to the USA. We will update you on this soon, so until then,
Tight lines mi Amigos y Amigas
BEST BOATS - BEST GEAR - BEST SERVICE - BAJA PIRATES!
Get the latest Baja Pirates fishing reports!