07/01/21
Our own Kamila landed a 38# pound Dorado today. She had become an outstanding angler!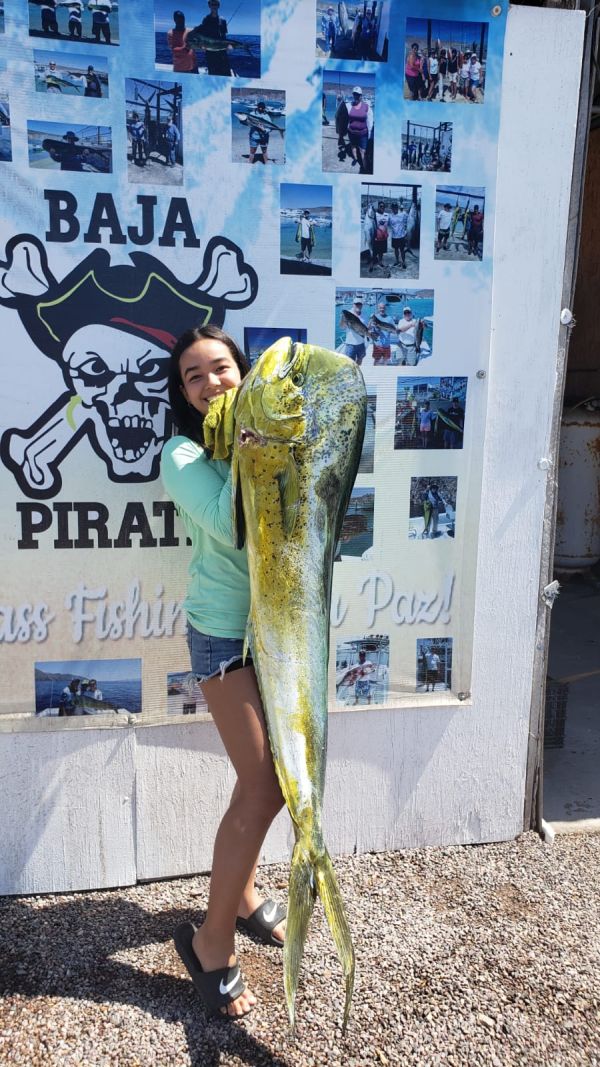 06/30/21
Today the remnants of tropical storm Enrique passed us by with no structual damage and we are again fishing. Ariel Almanza and Dan Campbell joined in on the fishing and show off their catch.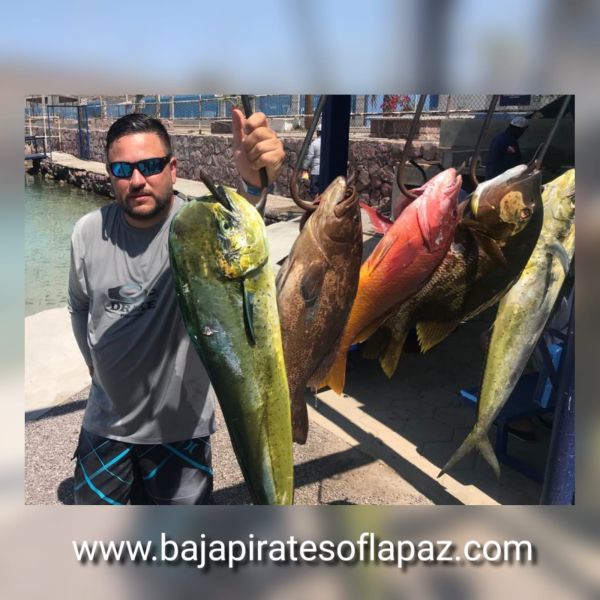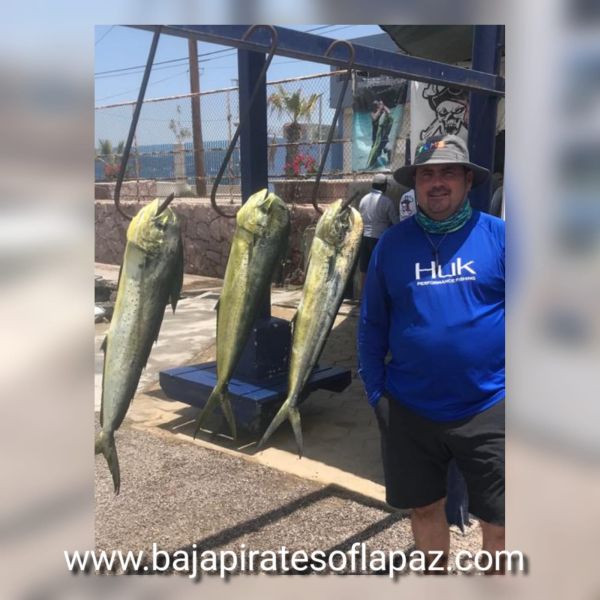 05/02/21
It was a good day fishing for Mr. Coriel, Mr. Hamilton and Kevin and Bonnie Schinman.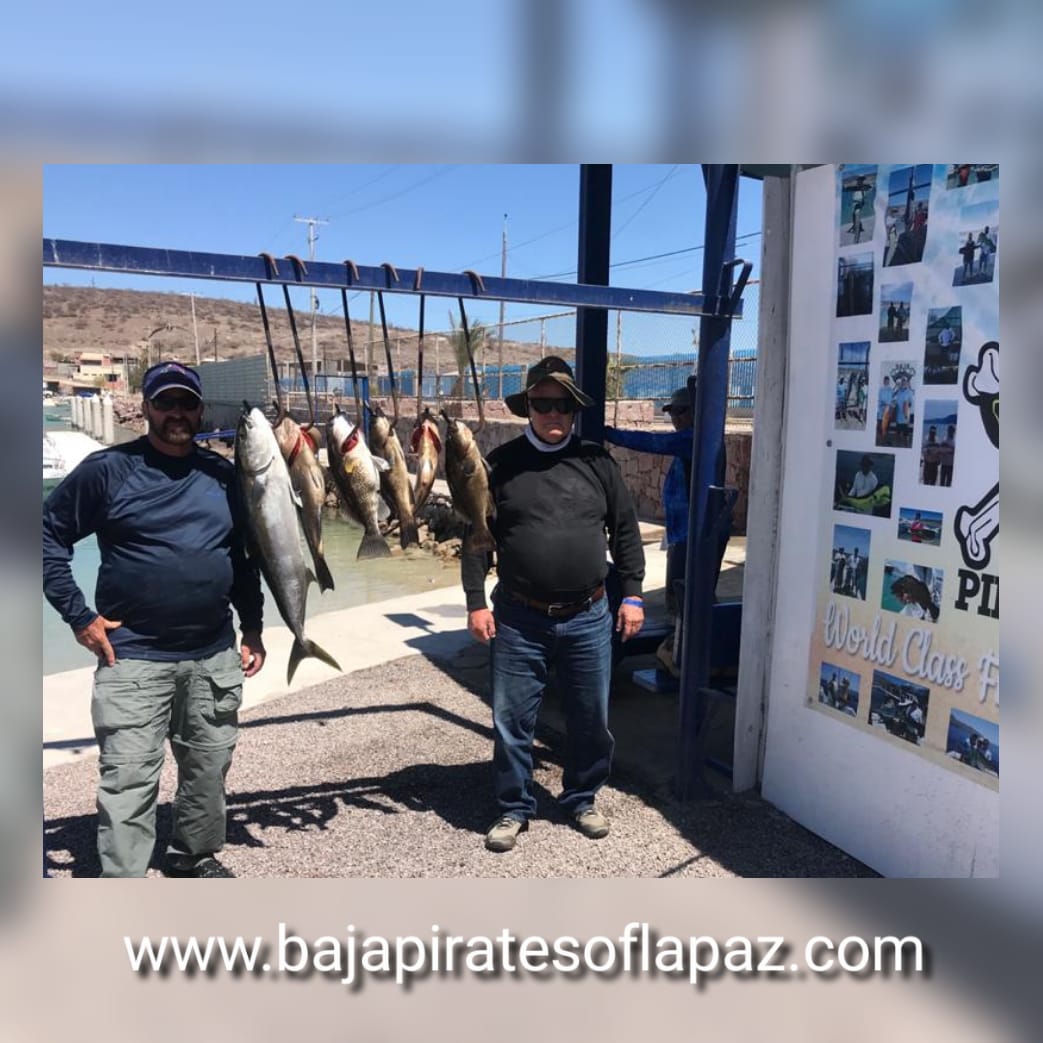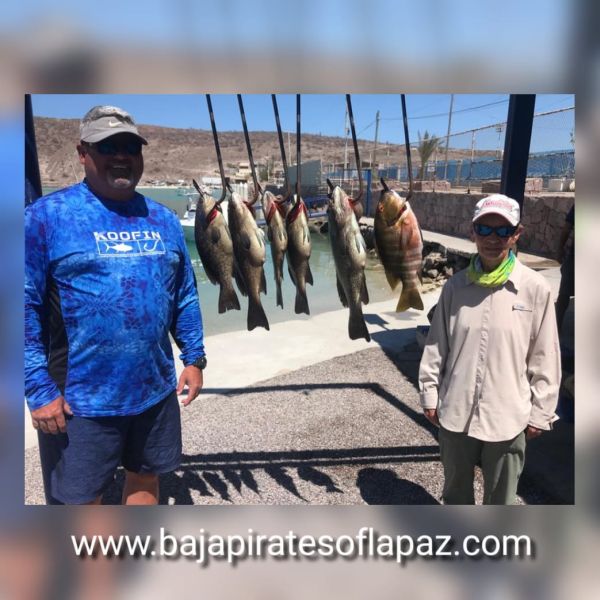 04/19/21
The John Jacobson group proudly show off their catch for the day.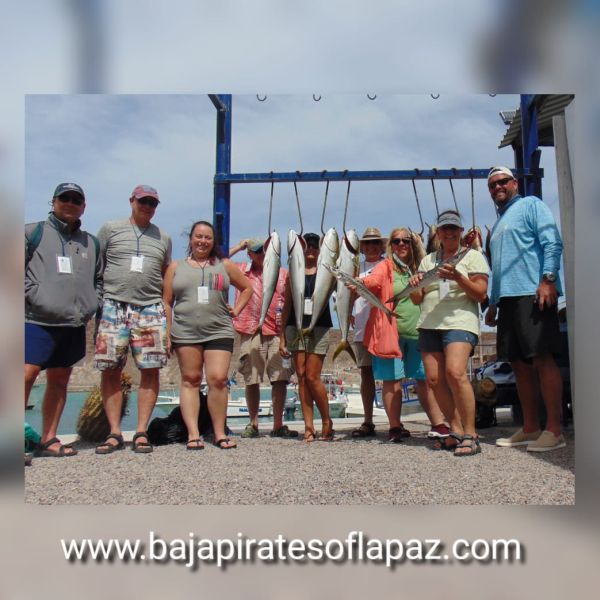 Kelly Short's group enjoy a cool one after a day of good fishing.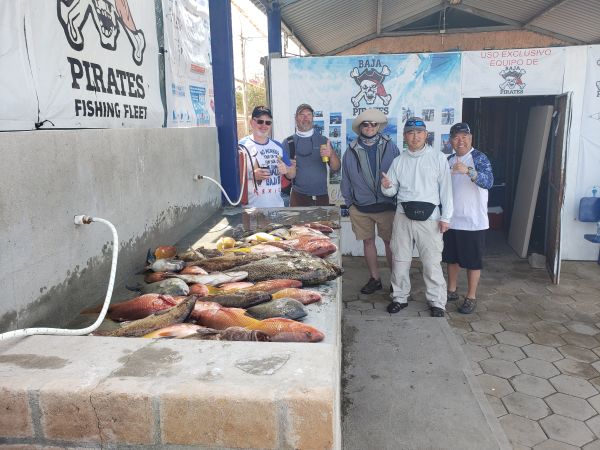 Troy Bloom, Troy Iietz, John Kreig, Jerry Jordon, Phil Harrison,Mark Hiwahiro, Sean Kim, Paul Iisac, and John Marshall all had some good fishing today.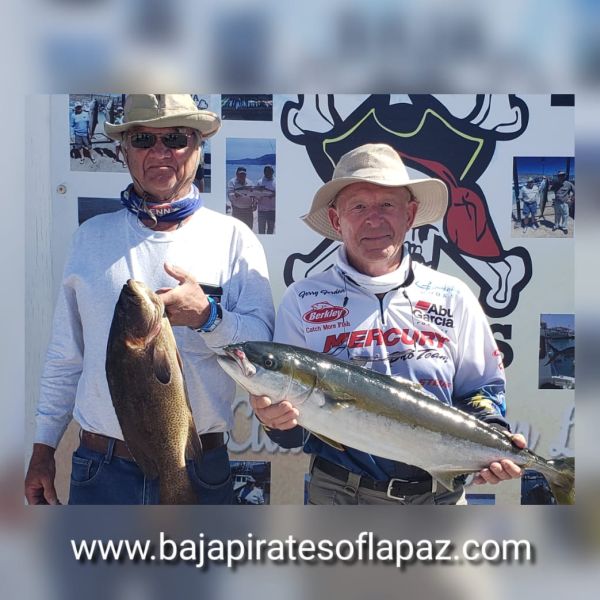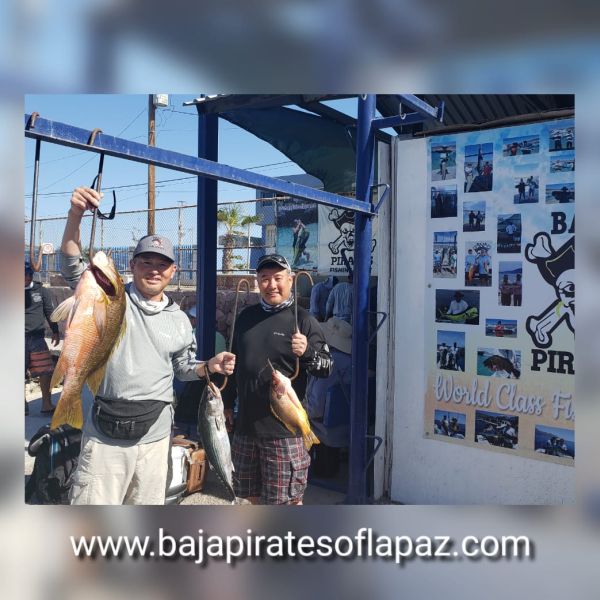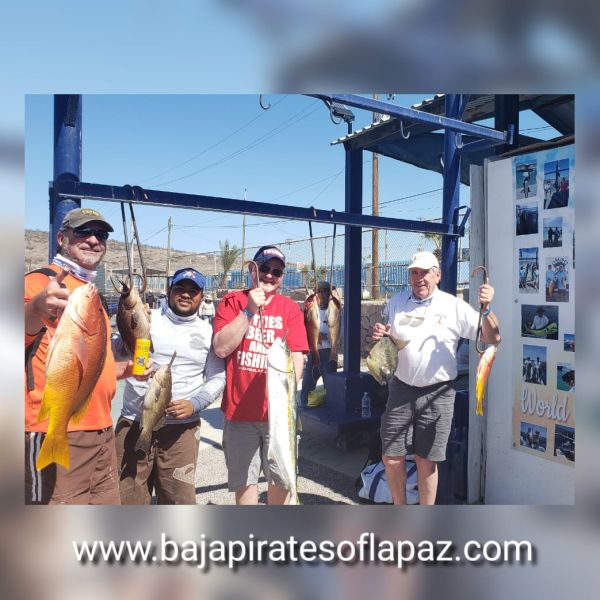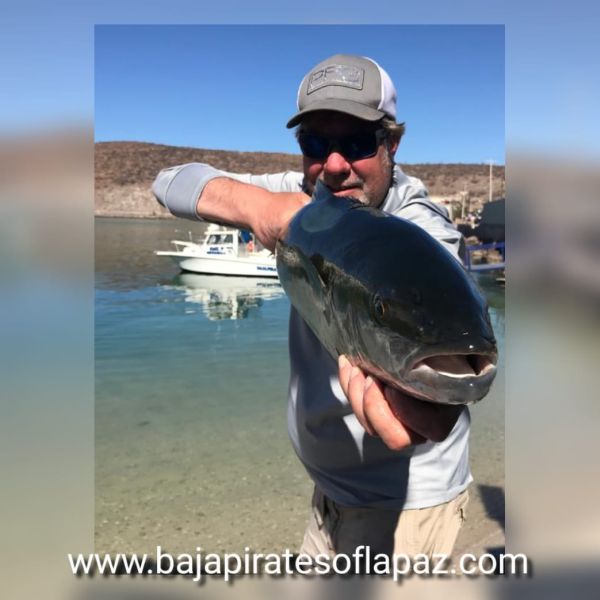 04/18/21
It was another good day fishing. 1. John Marshall, 2. Thyane Berry and Brian Burger, 3. Mr. and Mrs. Krieg, 4. Tom Grossnickle, Jerry Jordon and Phil Harrison.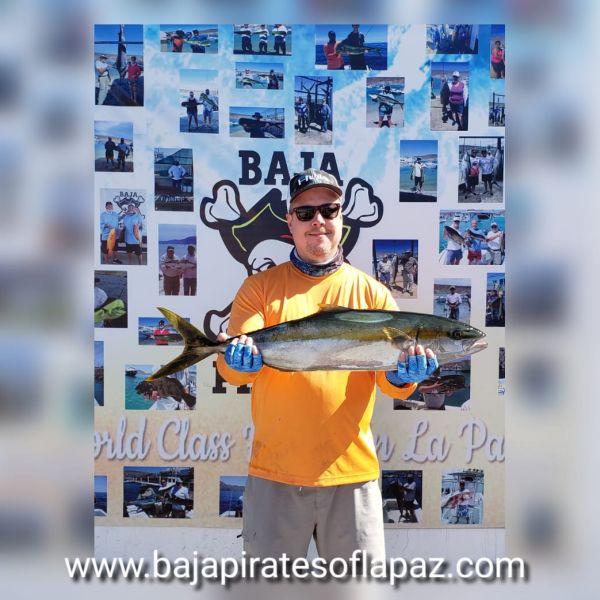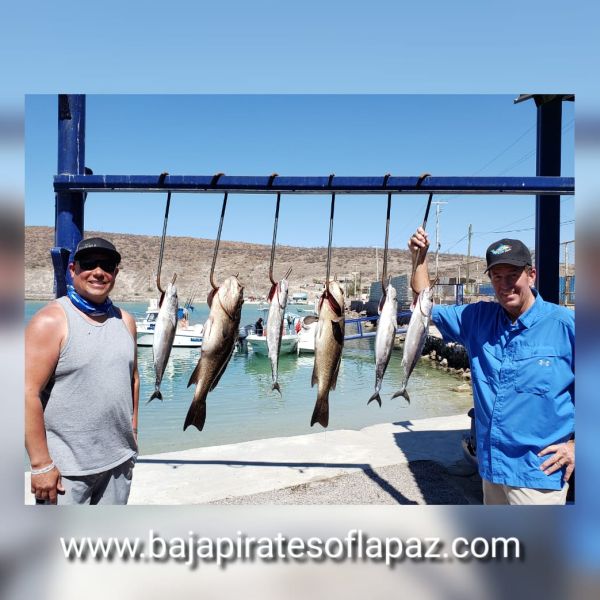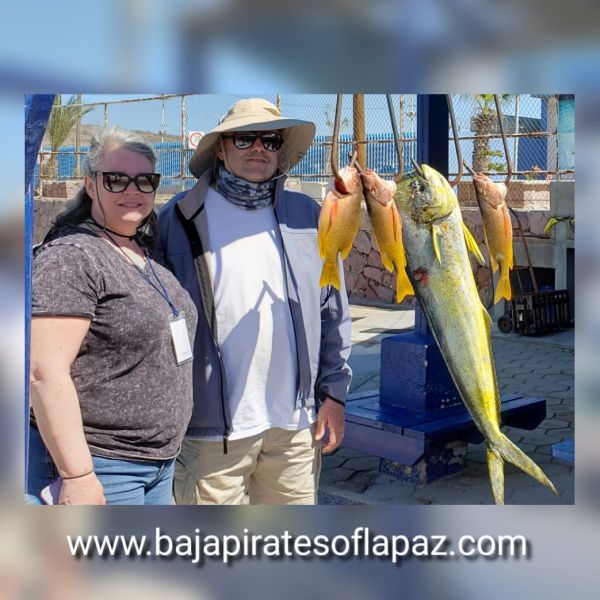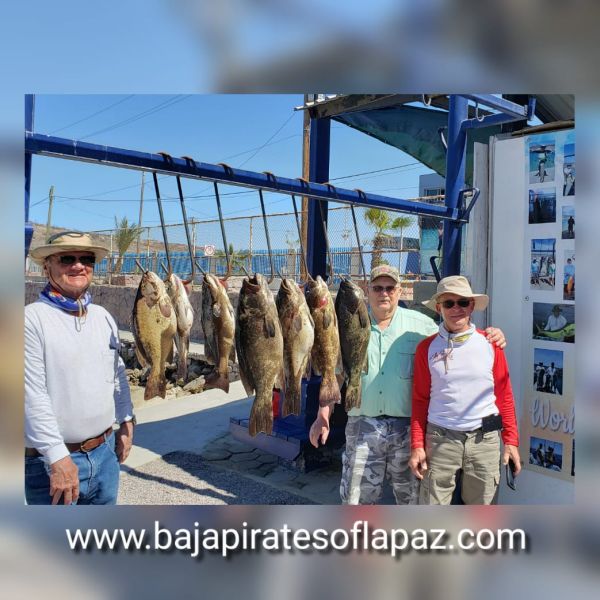 04/17/21
Mart Iwahiro and Sean King show off their catch for today.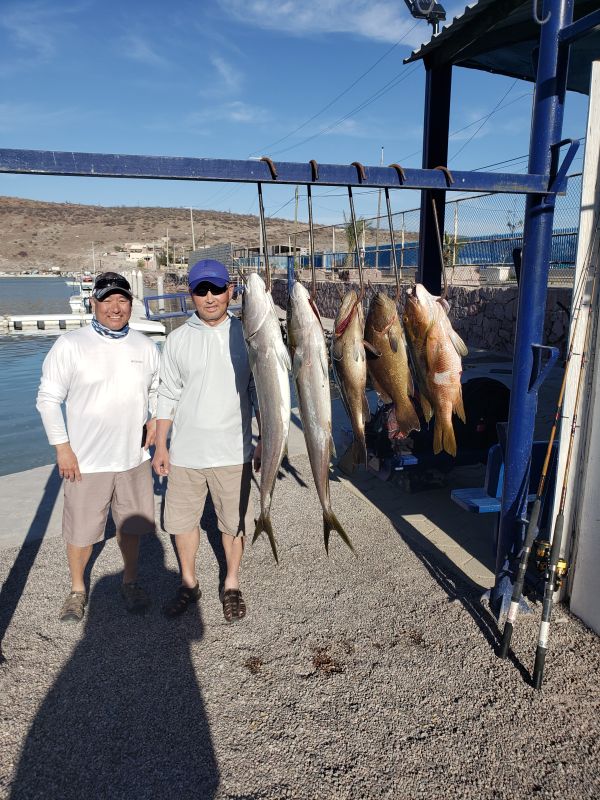 04/11/21
Another day of good fishing for the Regner group topped off with a nice tuna caught by Todd Littlefield.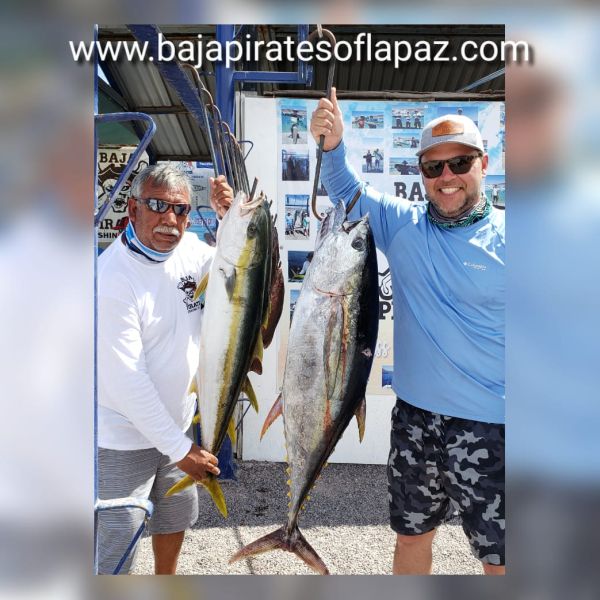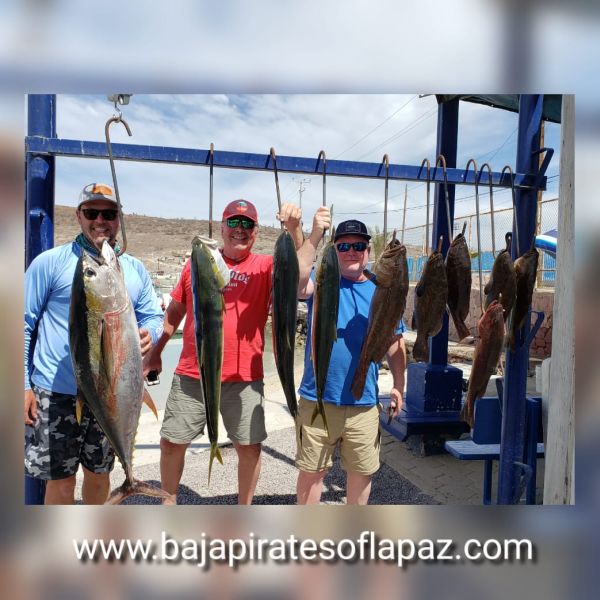 04/10/21
The Tom Regner group had another great day of fishing.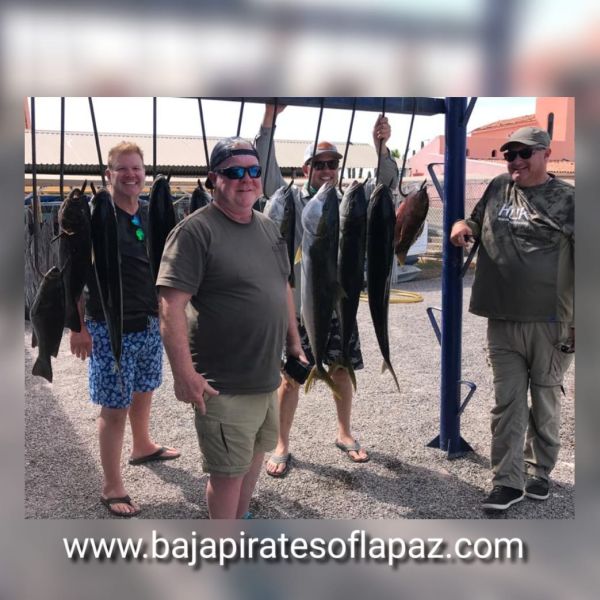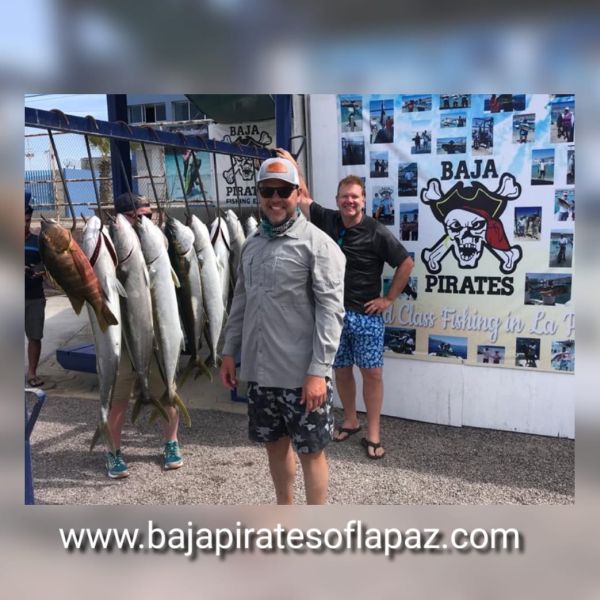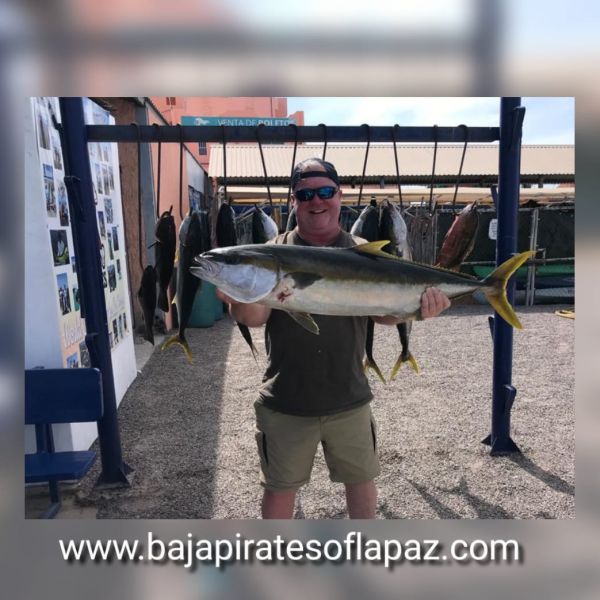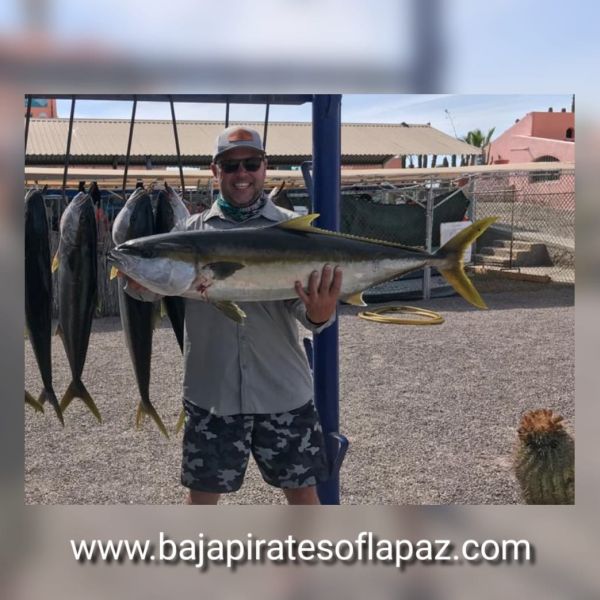 04/09/21
Tom Regner, Dale Johnson, Dan Johnson, Hunter Johnson, Todd Littleton, Keith Melher, Nathan Zeleski, Jim Lyanll and Adam Lyanll all joined us today then fished and shared "fish stories"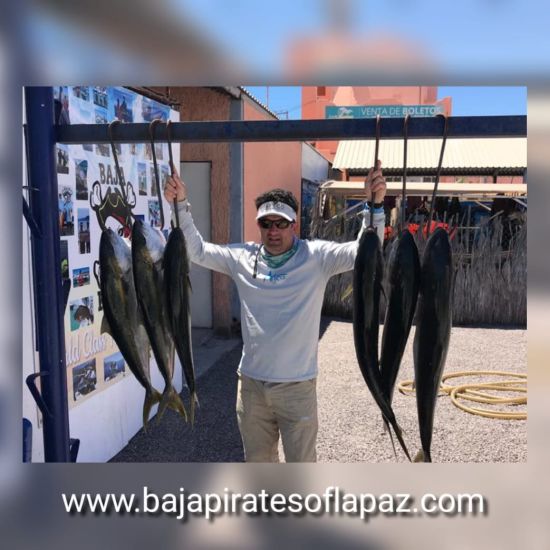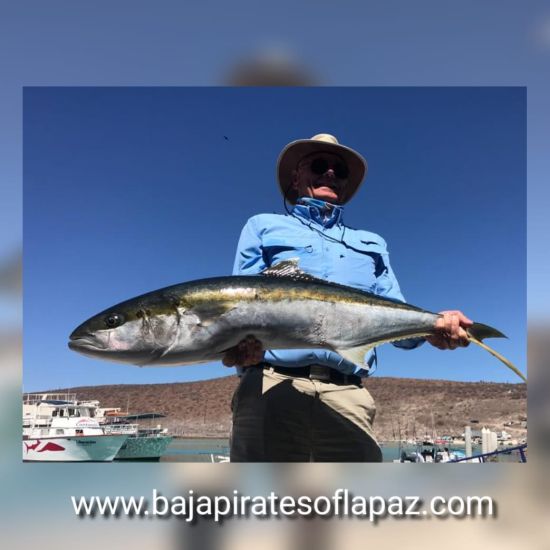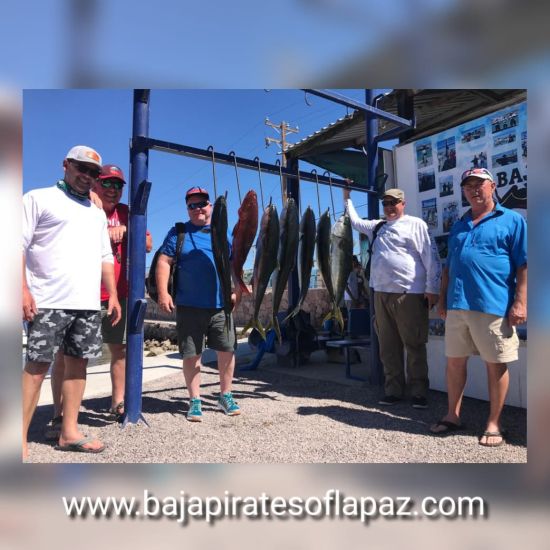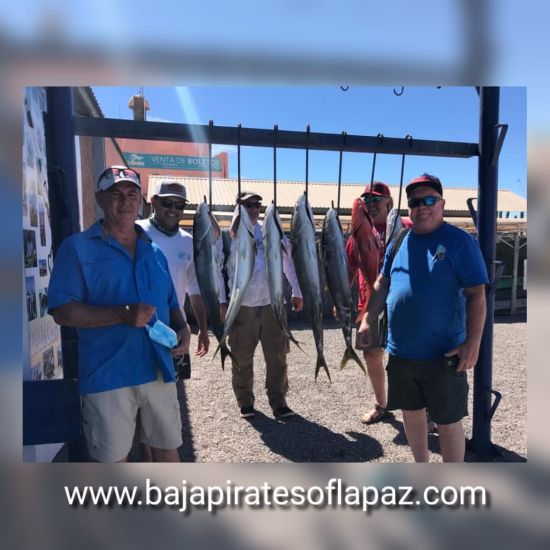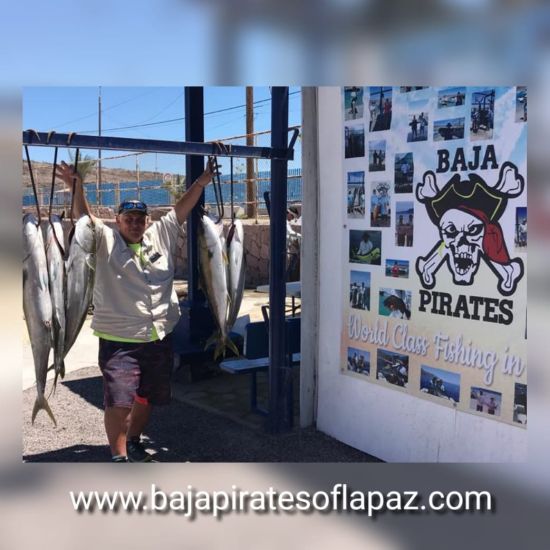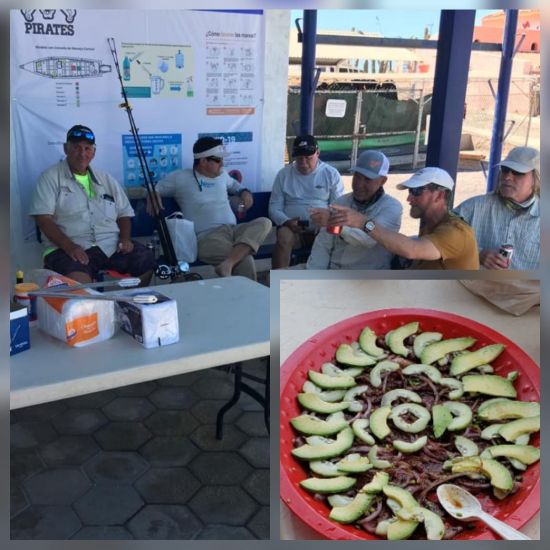 04/07/21
Yesterday we had a big group of guys fishing with us that included Phillip Deneau, Dwight Wise, Dante Maestri, James Emmons, Gary Shondeck, Mike Daugherty, Marshal Taylor and Roy Jones. The loaded up come quality fish.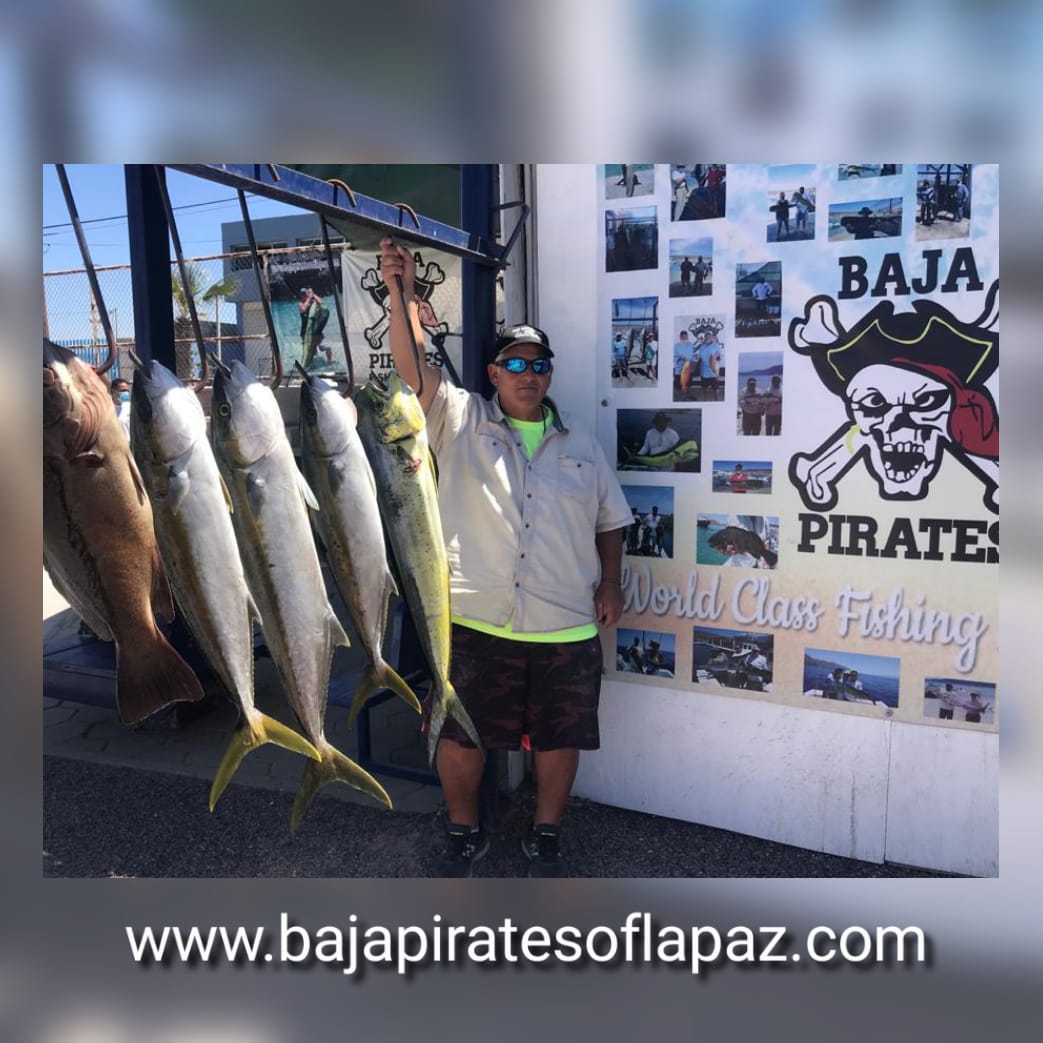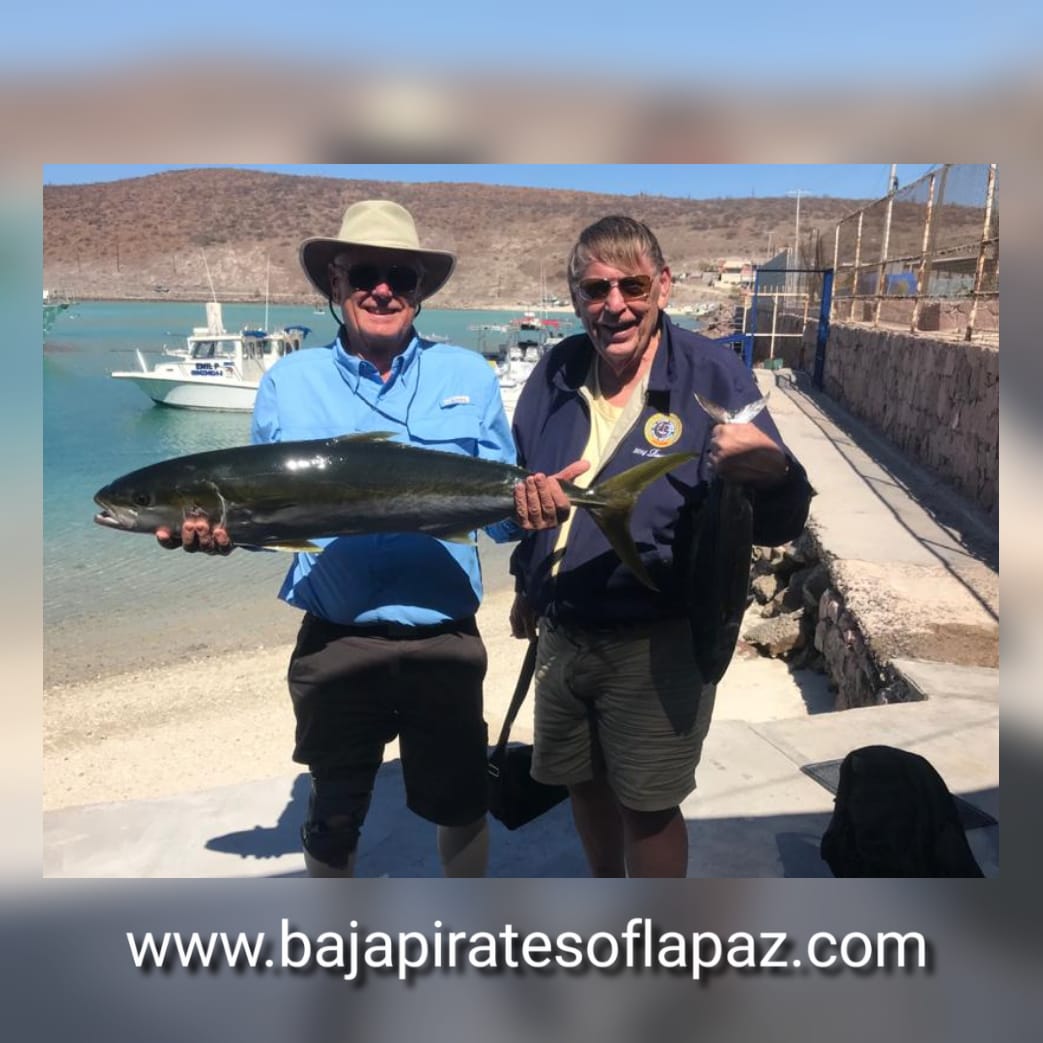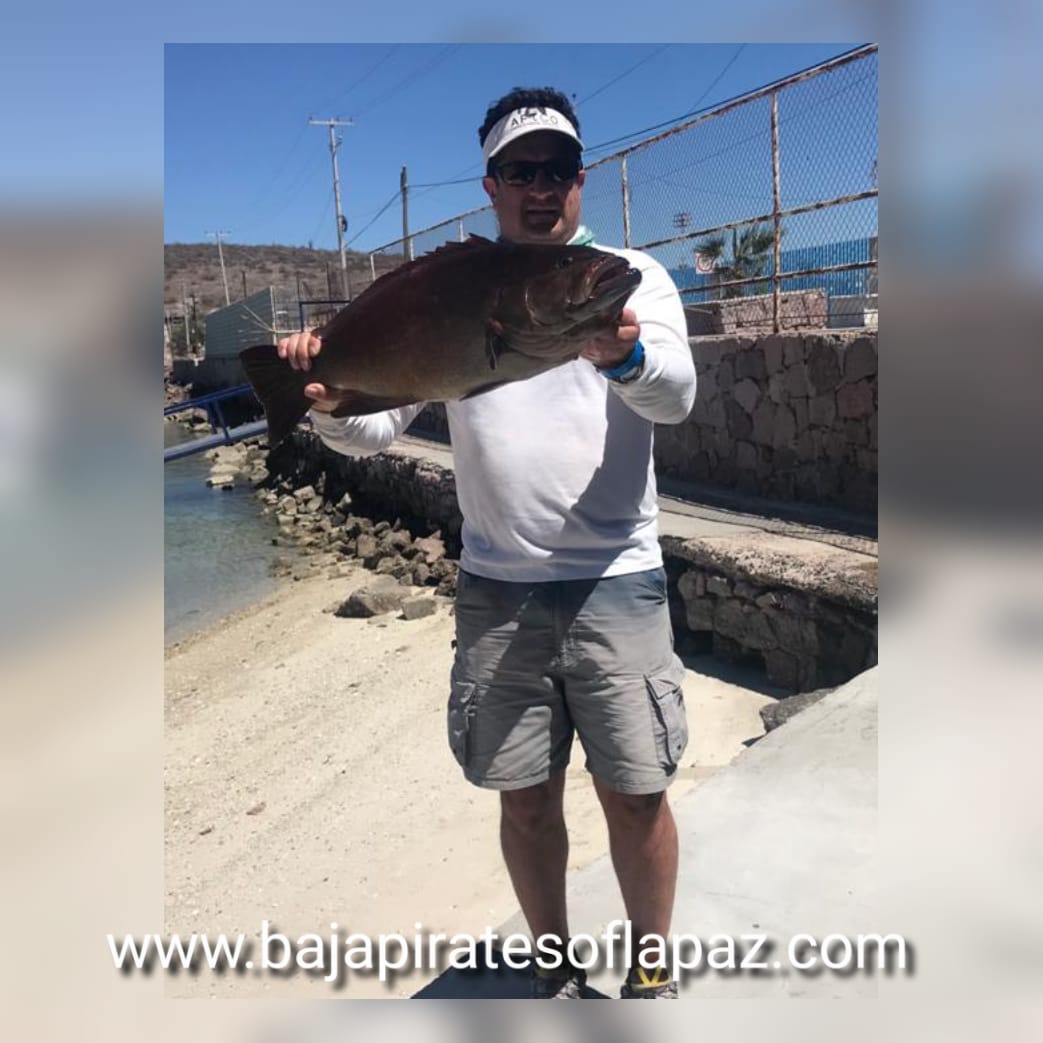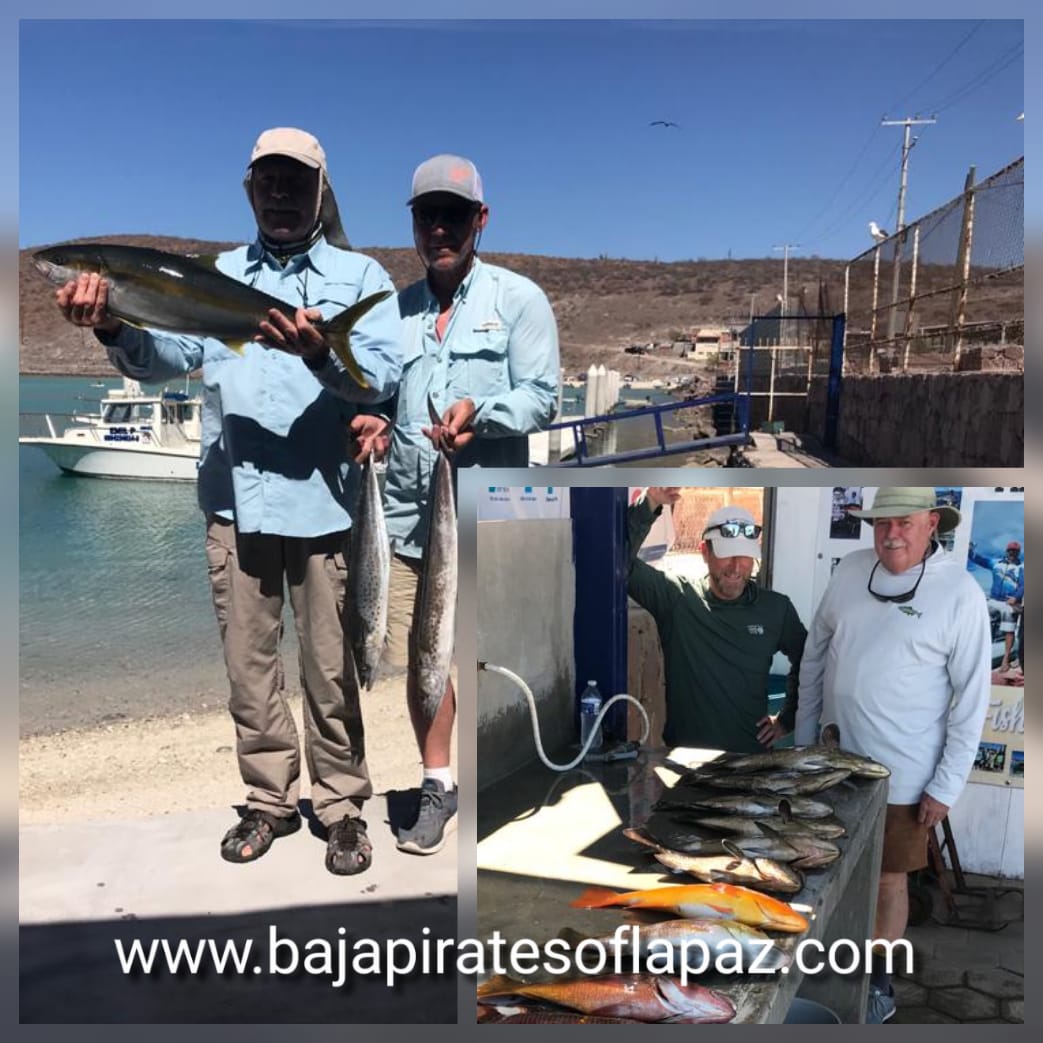 04/01/21
John and Angela Elgee along with Sharon, Rebecca and Alexa had fun in the sun fishing today.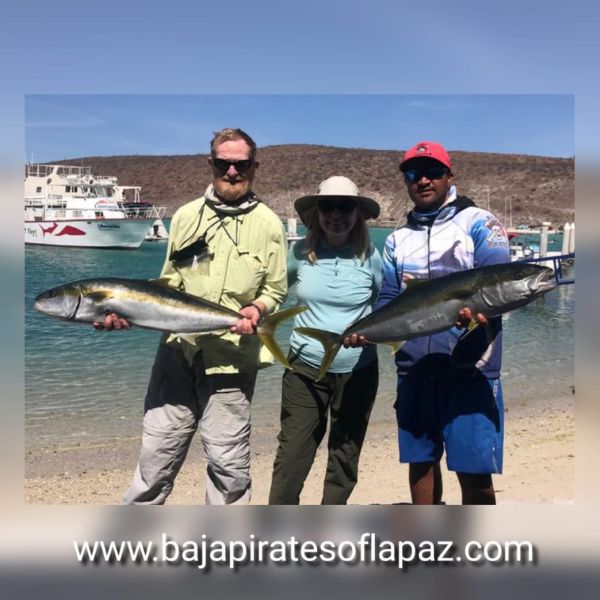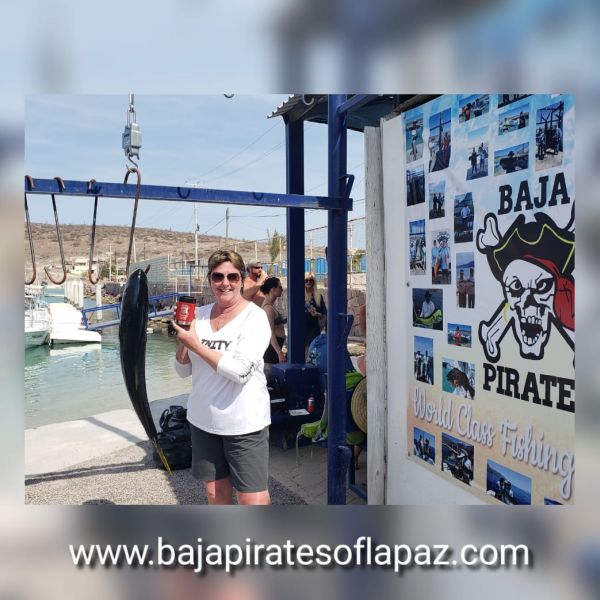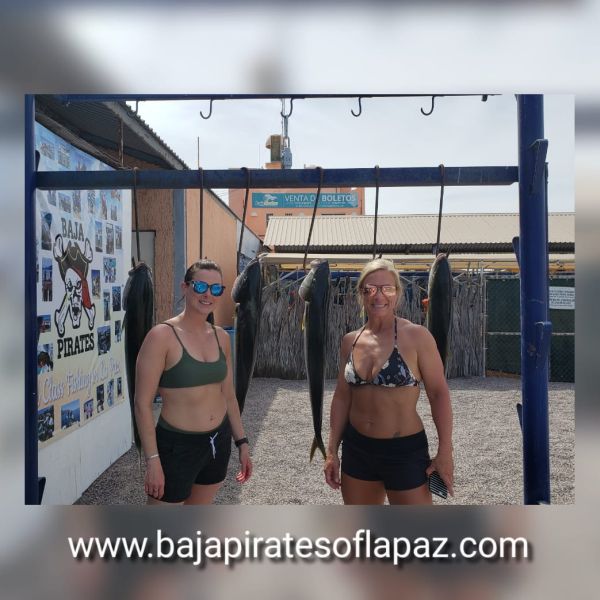 03/30/21
The group from American Heros returned again this year and they did very, very good fishing today.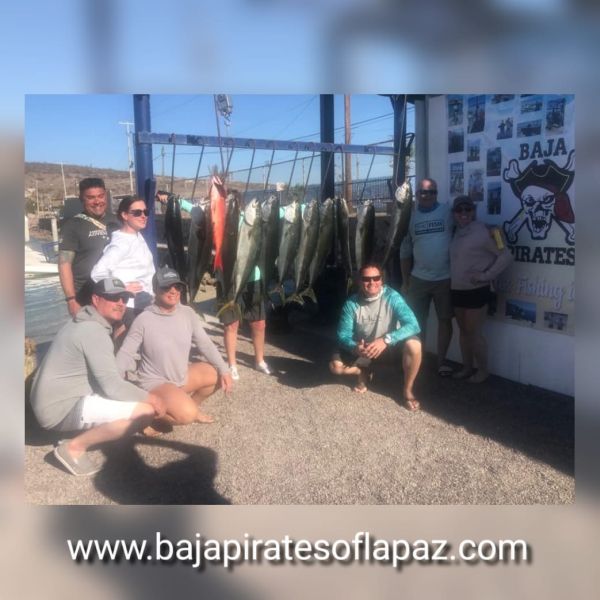 Larry Rau, Andrew Rau and Casey Cooper had a great day fishing with us today.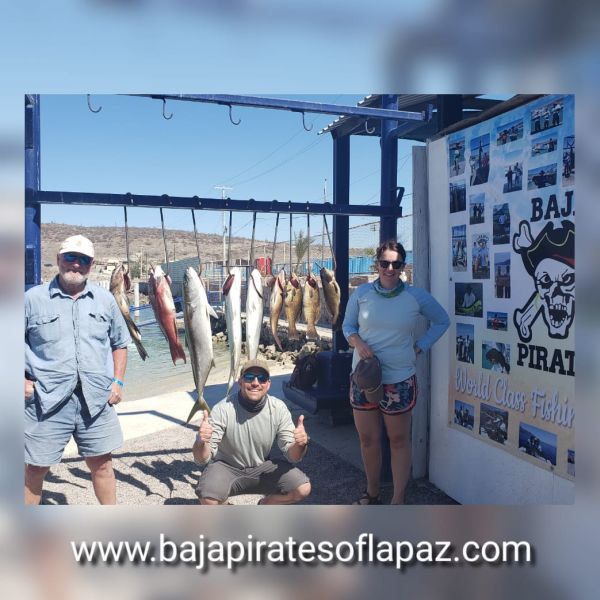 03/29/21
Will Townsend had the catch of the day with his 32# Yellowtail.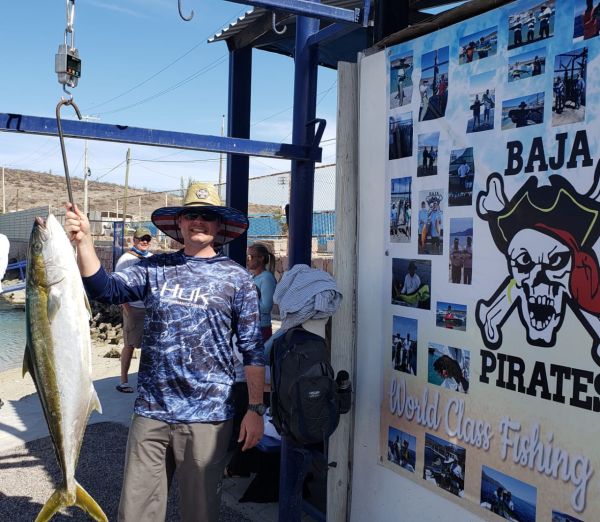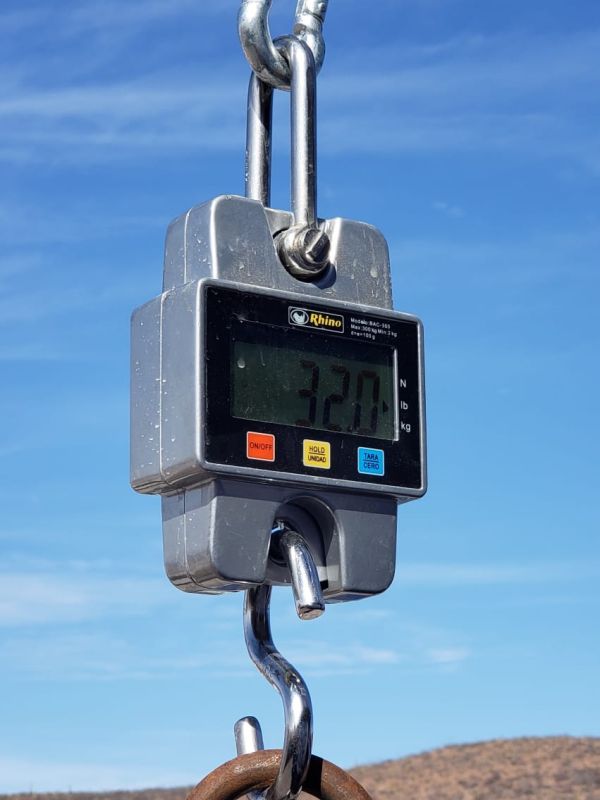 03/15/21
John Vanhorn and Leigh Messinides fished with Captain Memo today and show off their catch here: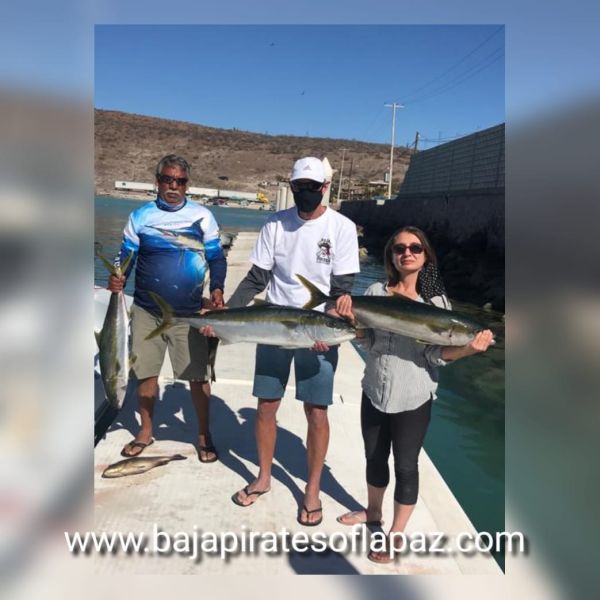 03/10/21
Jose Troitino fished with Captains Jesus and Felipe and enjoyed the good fishing and company.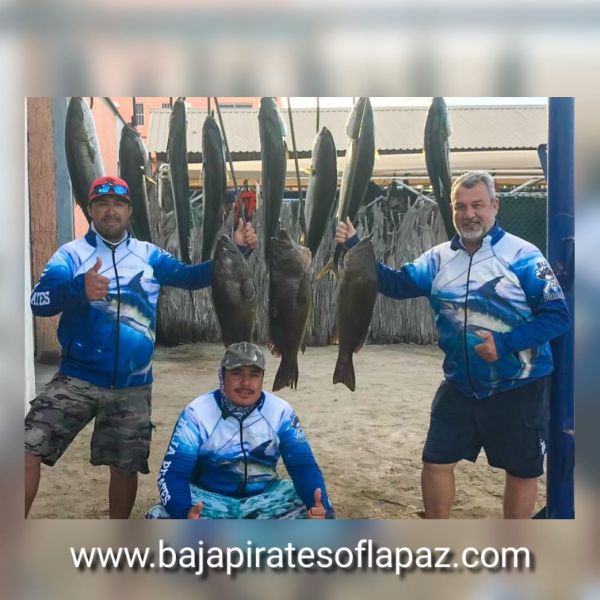 03/08/21
Well Greg Spangler had his fishing day to remember today. He landed a 147# Yellowtfin Tuna while fishing with Captain Jesus.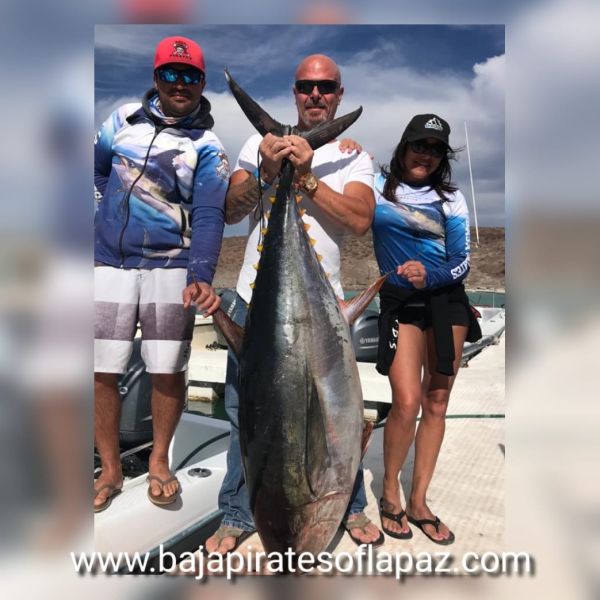 03/07/21
The fishing pressure has continued to be ligth and our clients have enjoyed these conditions. Greg Spangler and Ivonne Bunch along with Arpat Kovacs had a great day.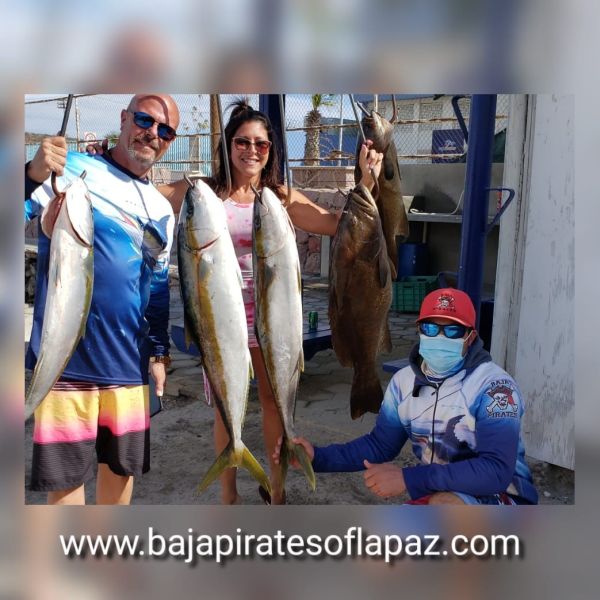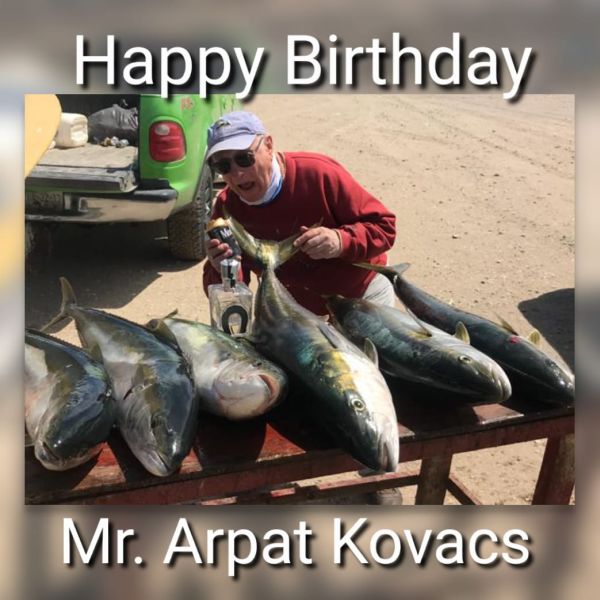 10/22/20
Don and Maria Carpenter and Gail Powers had another great day and really loaded up with Dorado.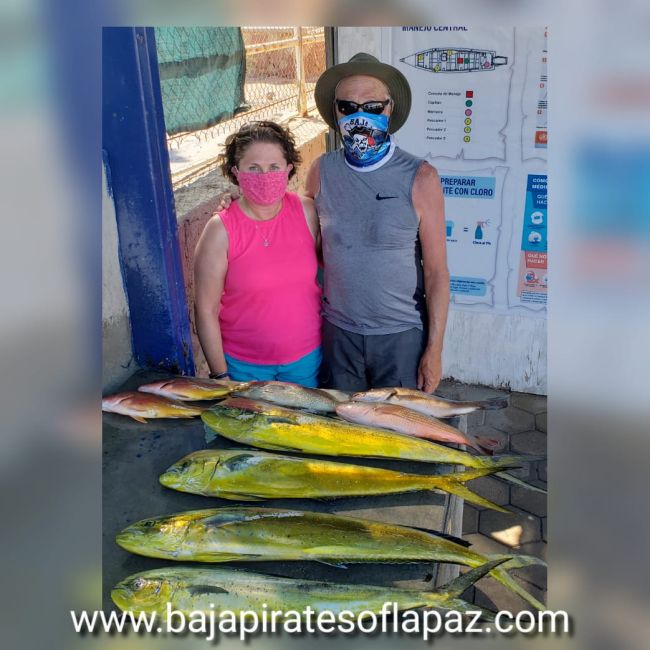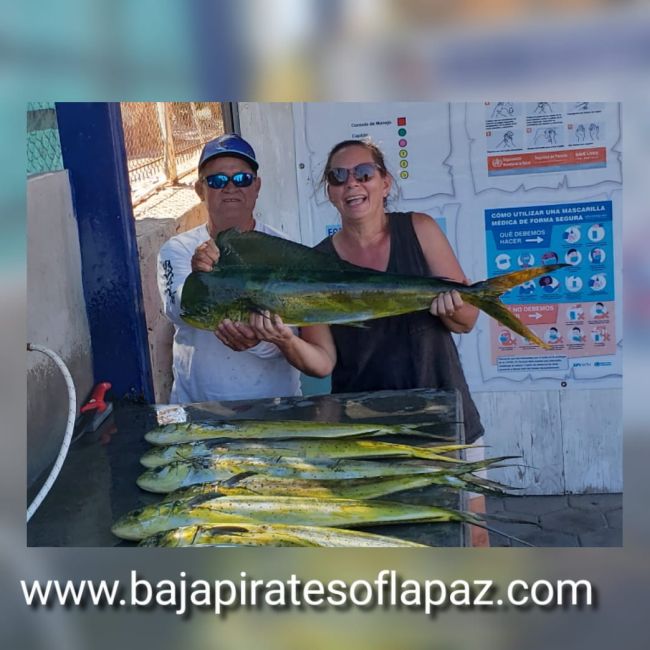 10/20/20
Don Carpenter landed a nice bull Dorado toay.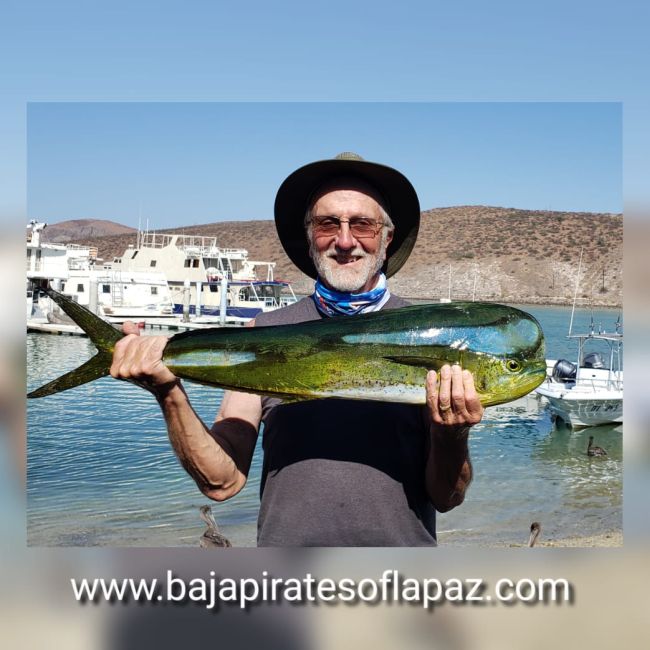 10/17/20
It was another good day for our friends and clients, nice big dorado and even a big marlin. Fishing today were Susan Travers, Mike Fontes and Mr. and Mrs. Nicolaisen.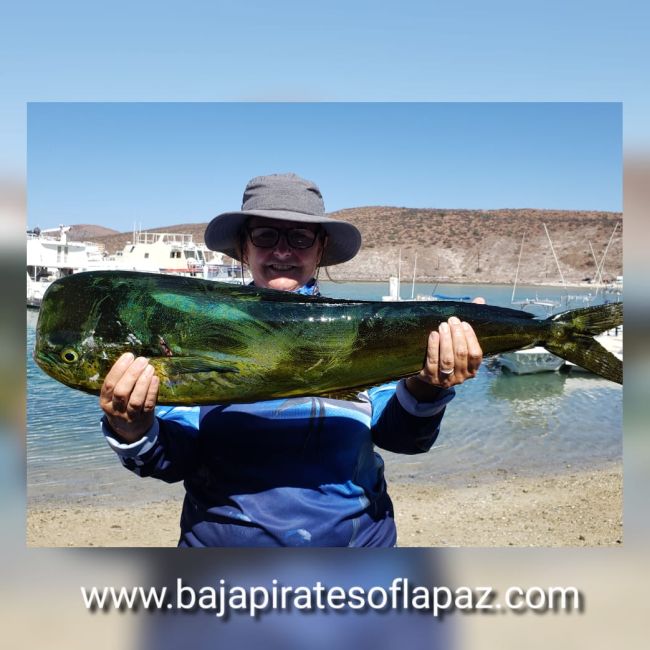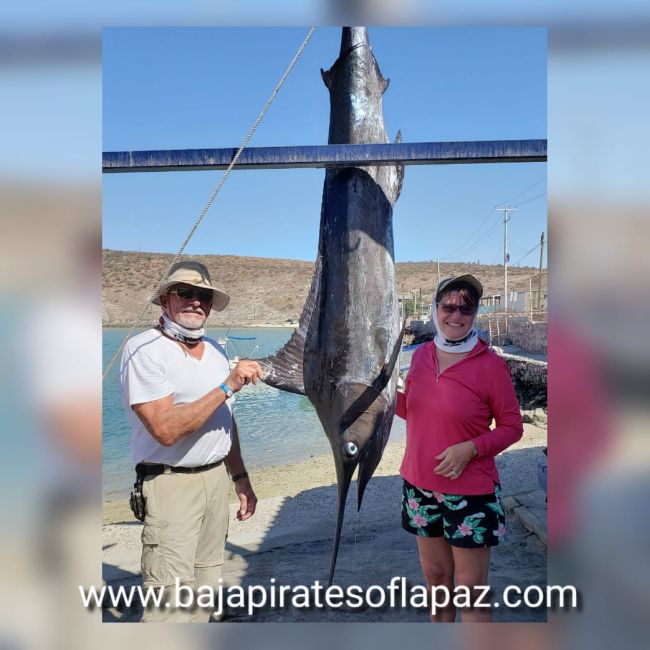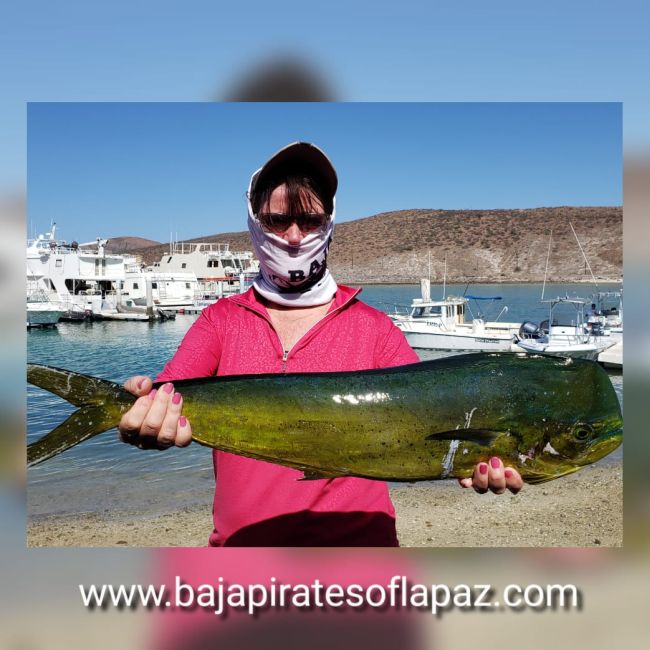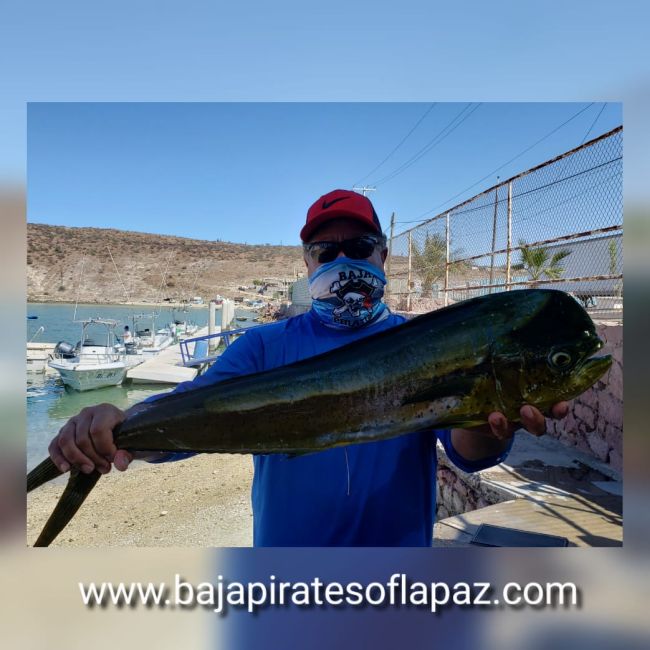 10/13/20
We had a large group of clients and friends fishing today that included; Yvonne Bunch,, Kyle Goffney, Warren Fairbanks, Matthew Fare, Bob Lewis, Kenneth Clark Jr., Billy Frazier, Travis Theunissen, Jeff Lawrence and Steve and Gary Liavingston. All had a great time and loaded their coolers.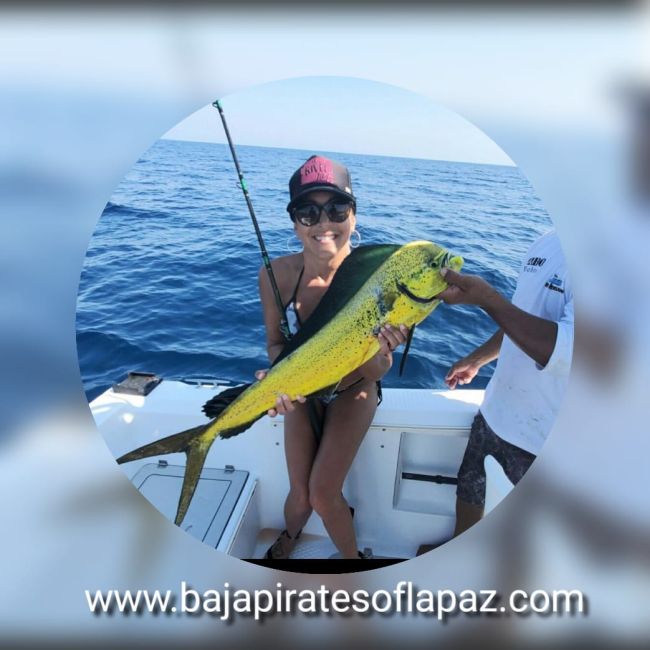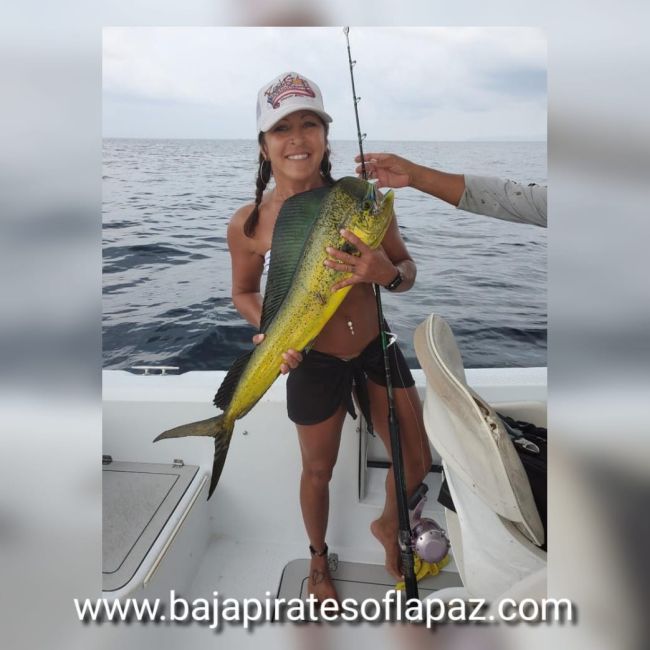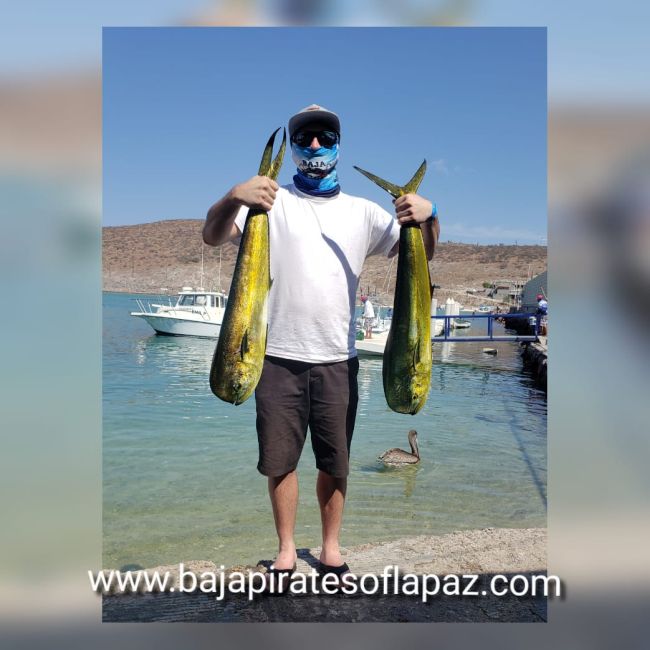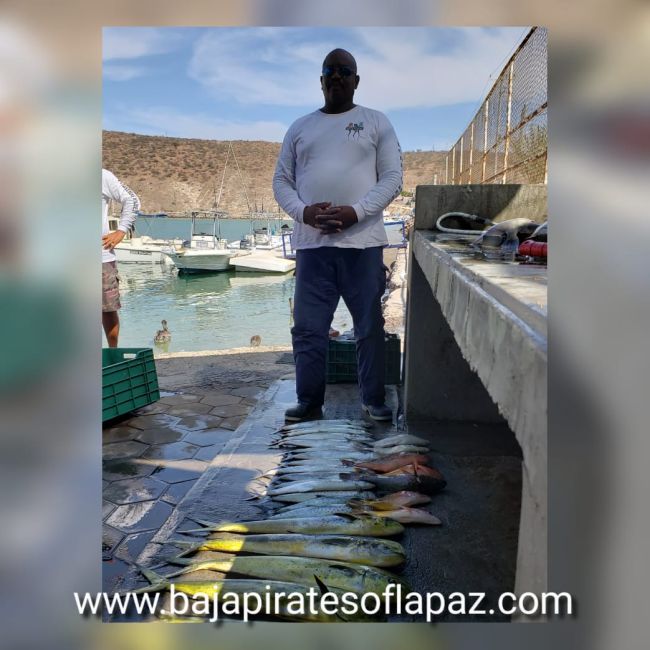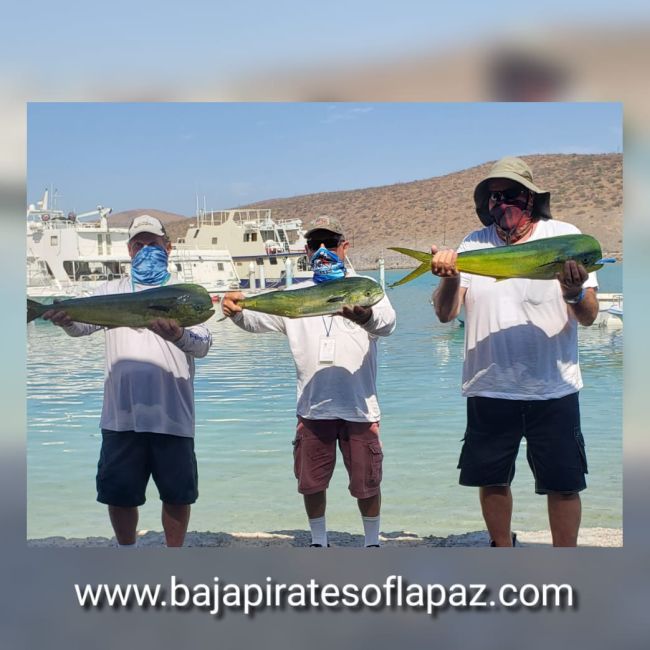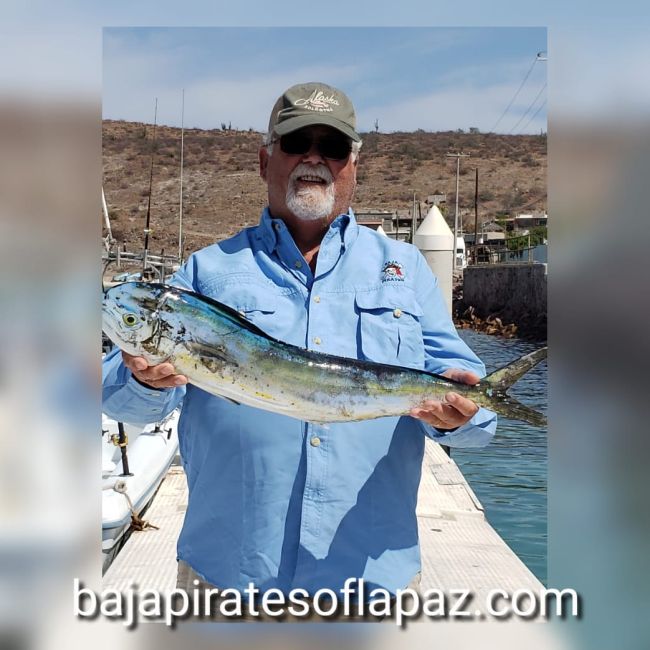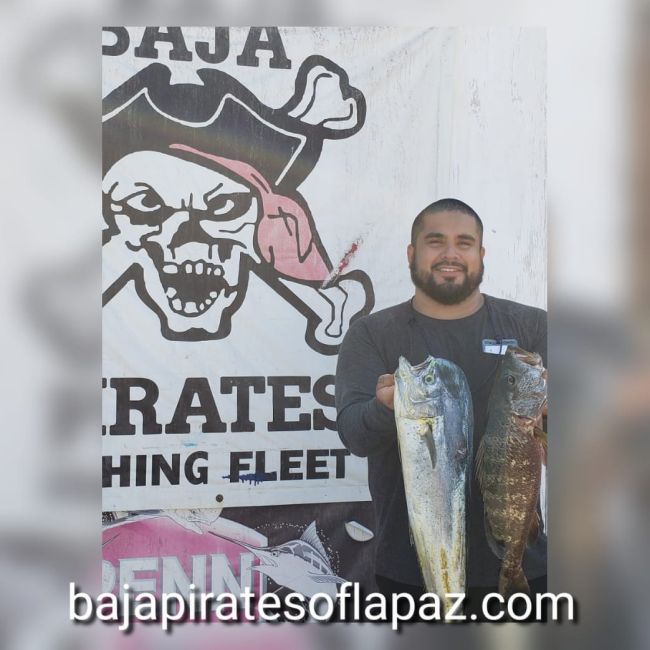 09/27/20
The guys did it again today.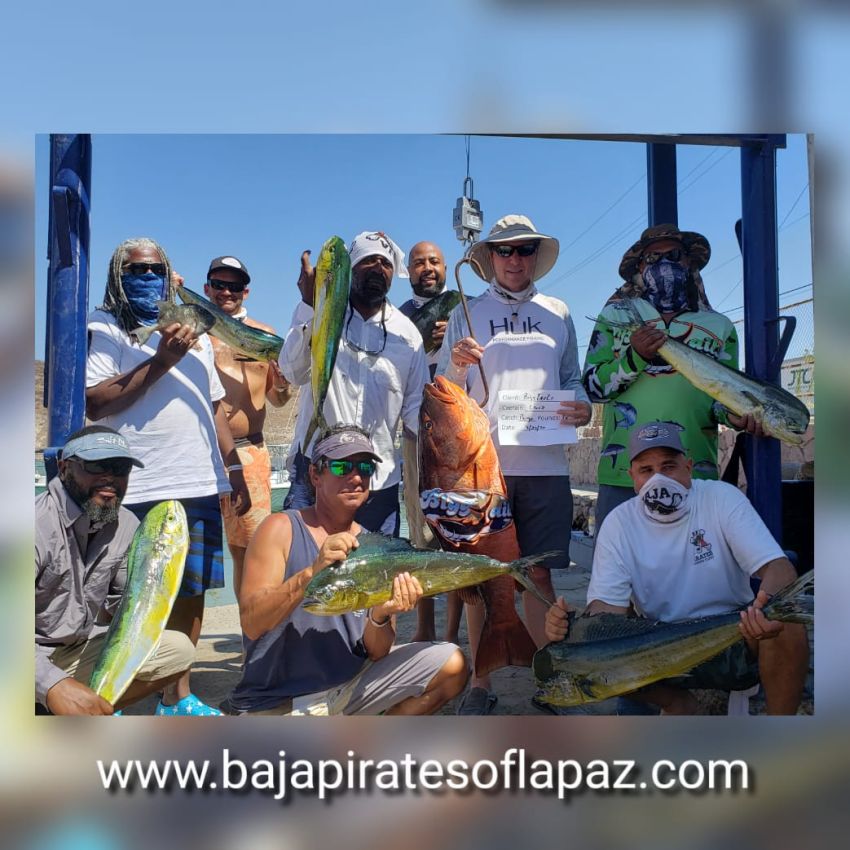 09/26/20
Today was Dorado day for Ondre, Carlye, Dave, Louie, Andre, Harley, Charles, Chase and Mario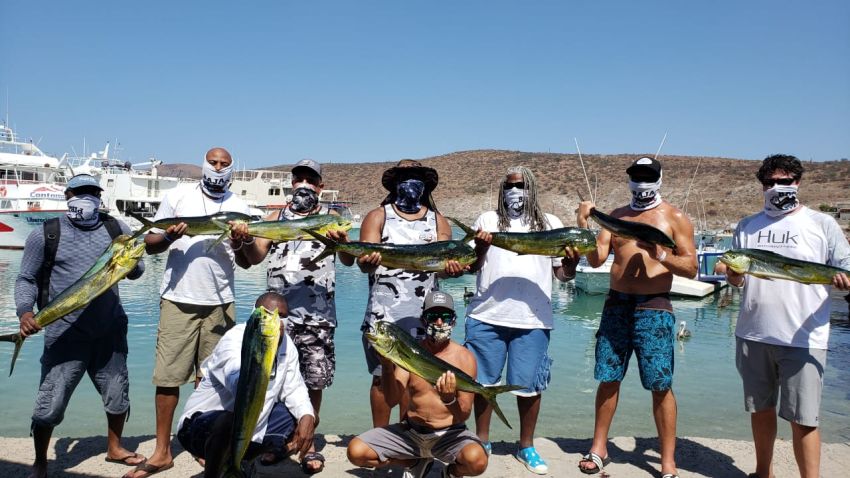 09/24/20
Another good day of fishing for our clients.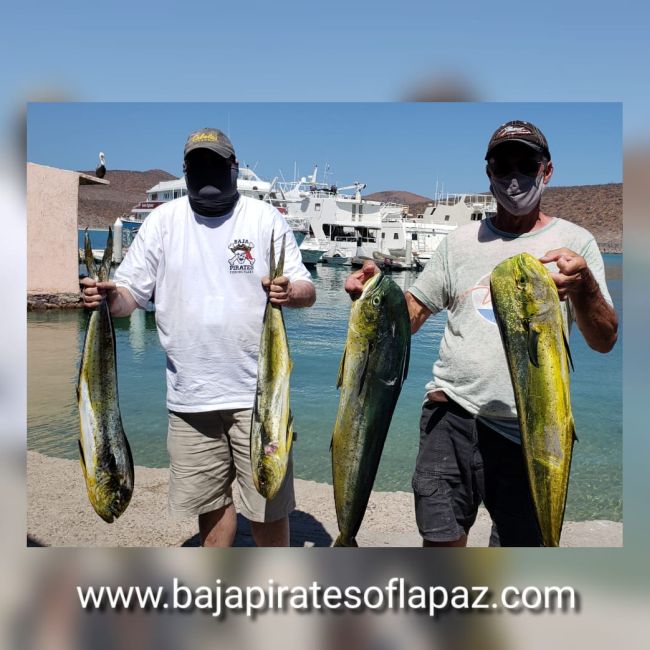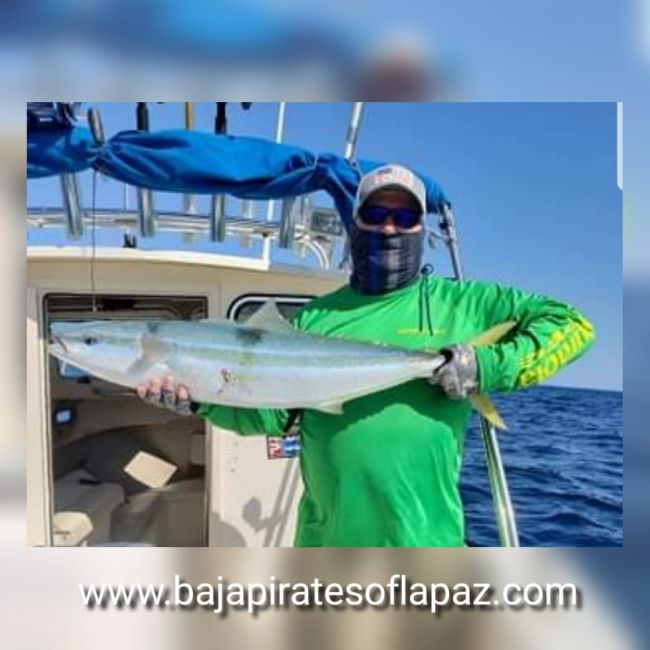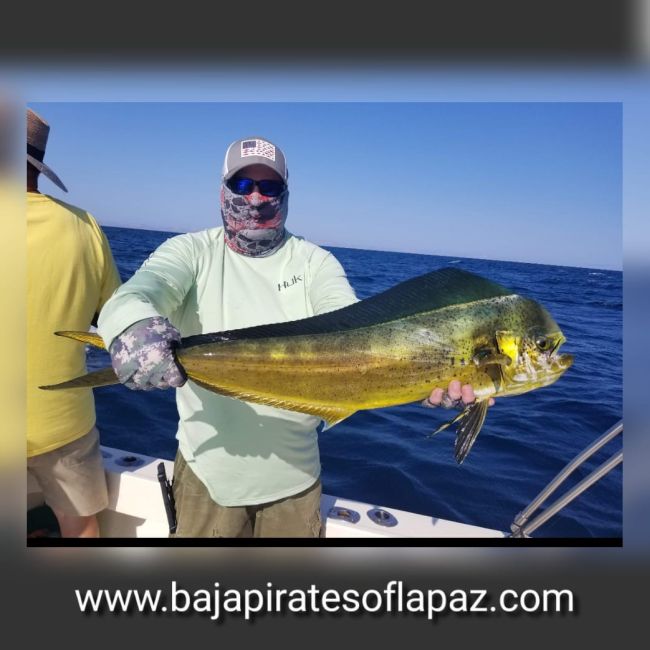 09/16/20
Athila Kovac and his father had a great time fishing with us today.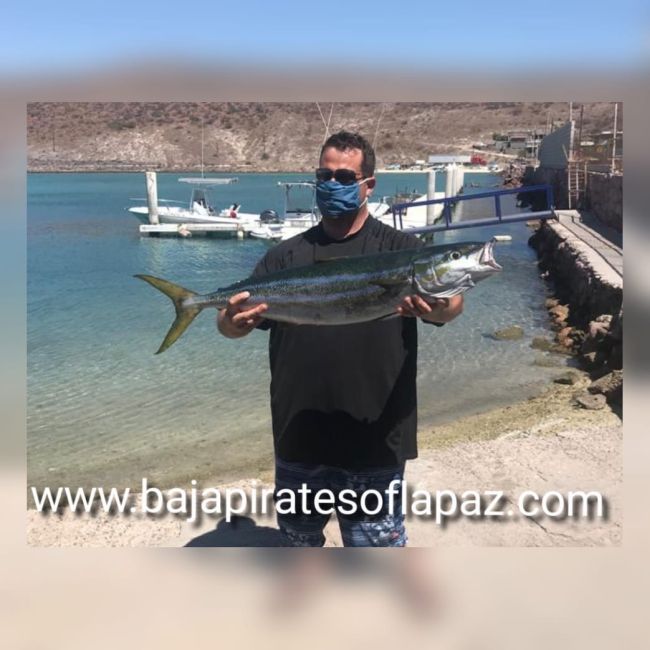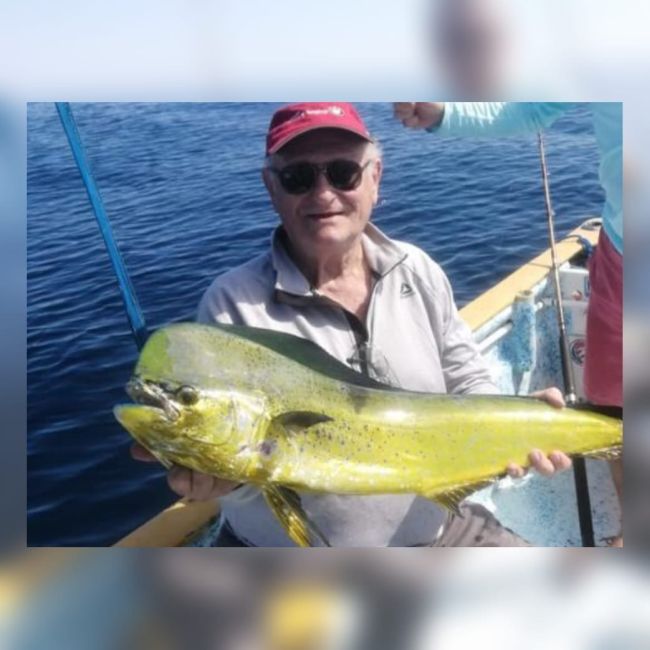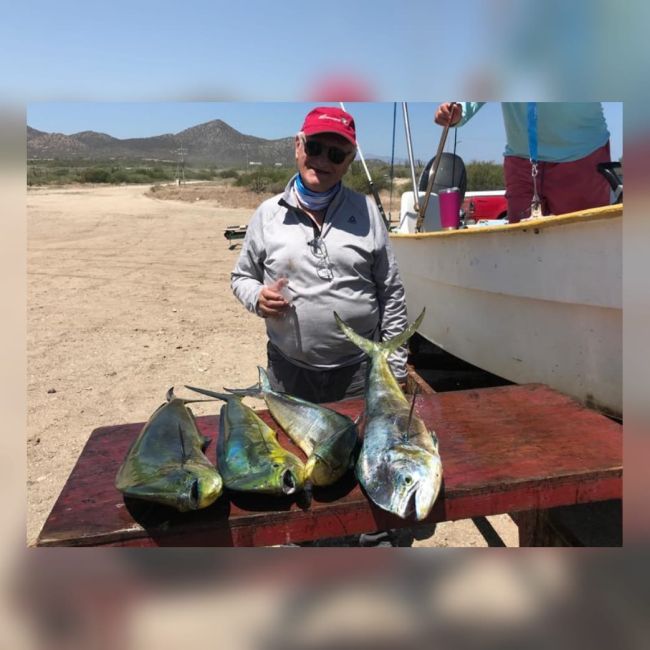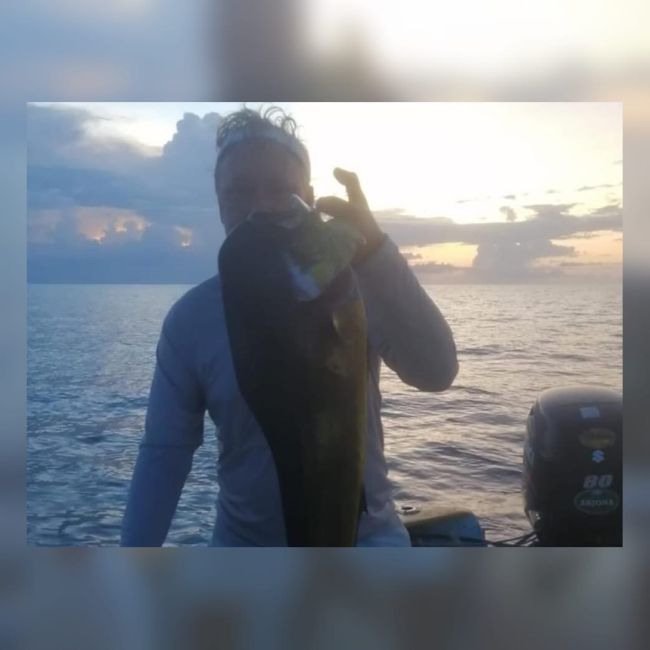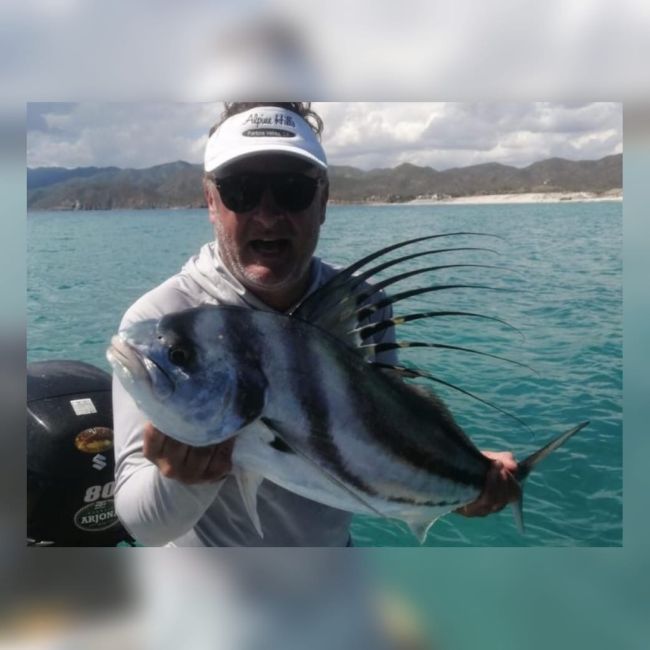 09/07/20
Jesus Holgin and Genaro Pena had a very good day fishing.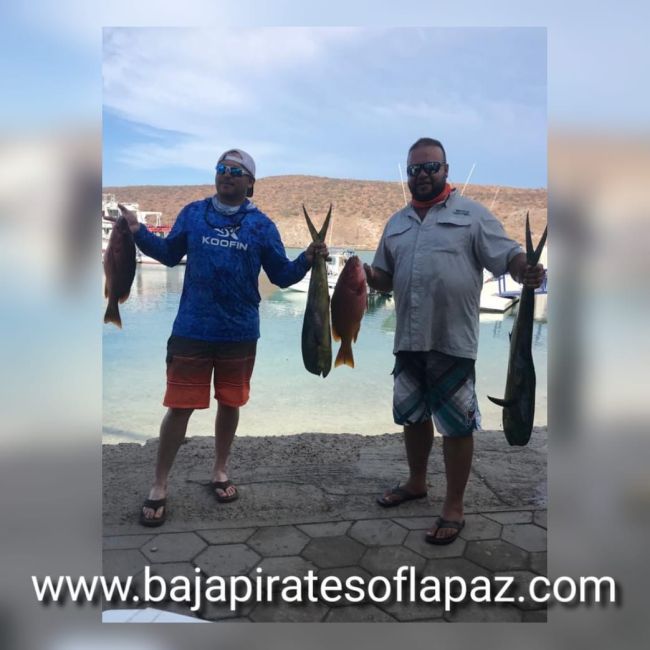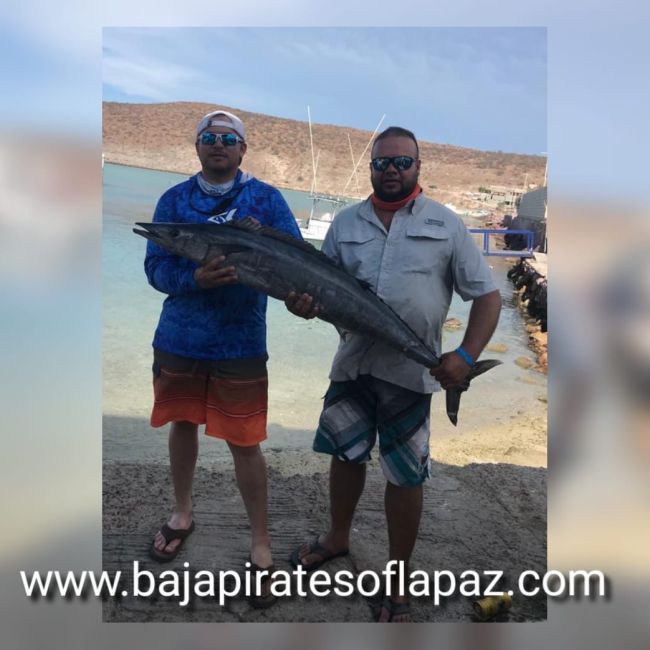 09/03/20
Baja Pirates had a mini tournament between captains and clients and the results speak for themself.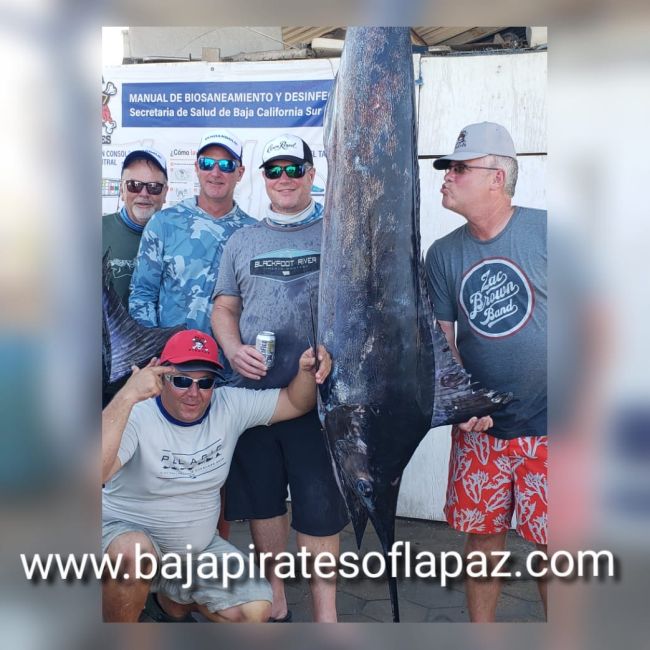 09/03/20
A good day of fishing!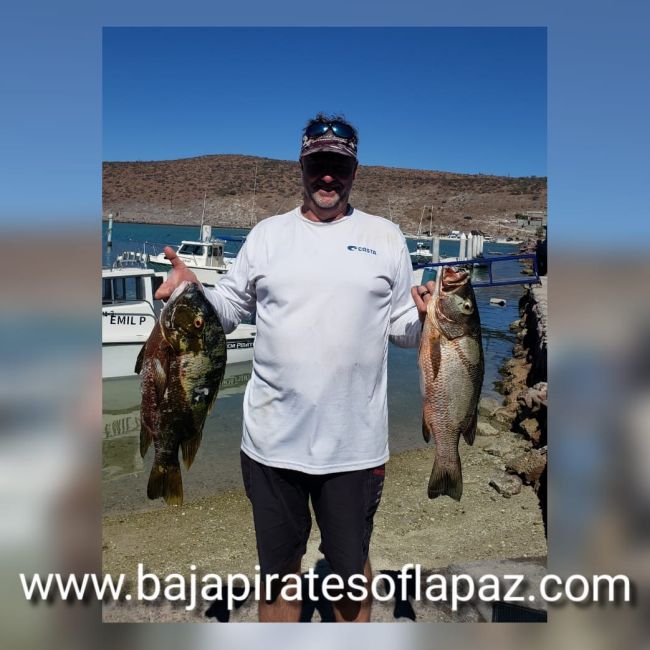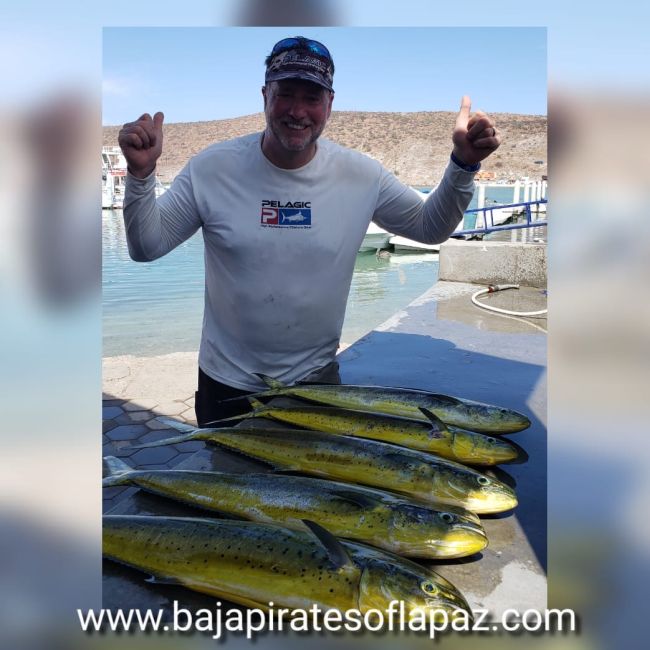 08/18/20
Another big Dorado catch.
Today the fishing was again good for our friends.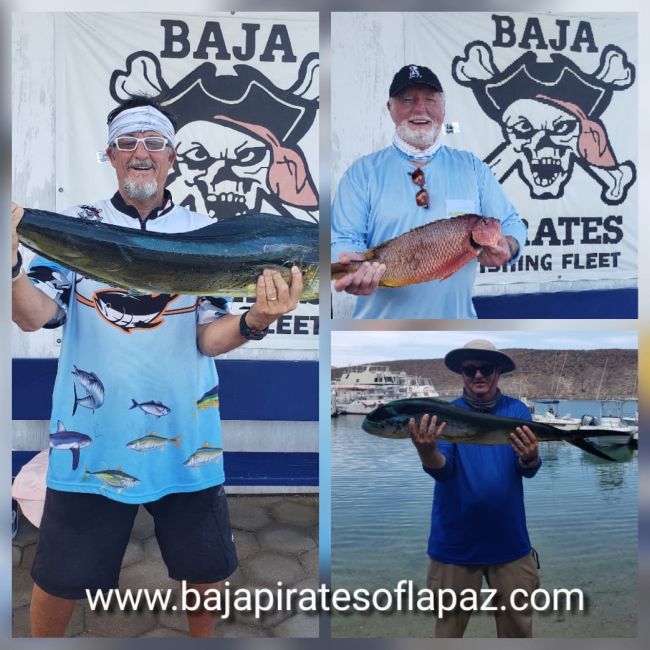 08/16/20
Markus Burger, Arian Sorkhab and Scott Spencer had fun fishing with us on Sunday and came back wiht a nice catch.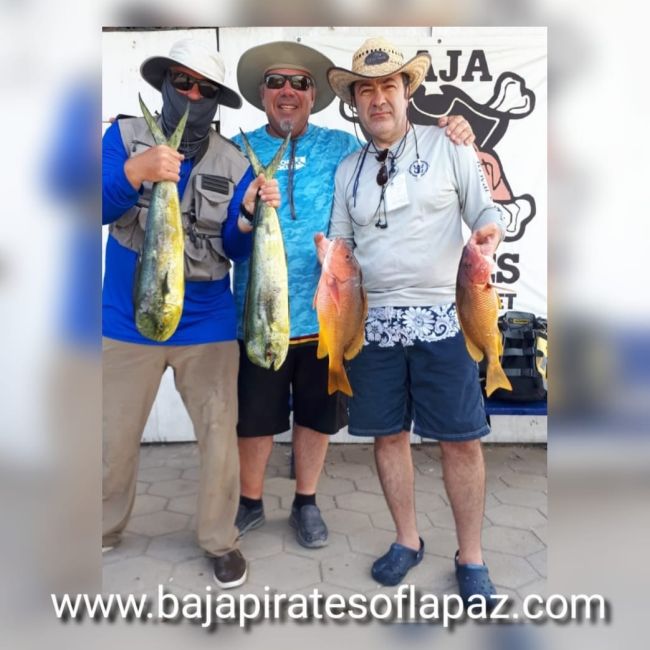 Jack McGuire and Bryan Zeterquist also fishing today and show off a pair of Dorado they caught.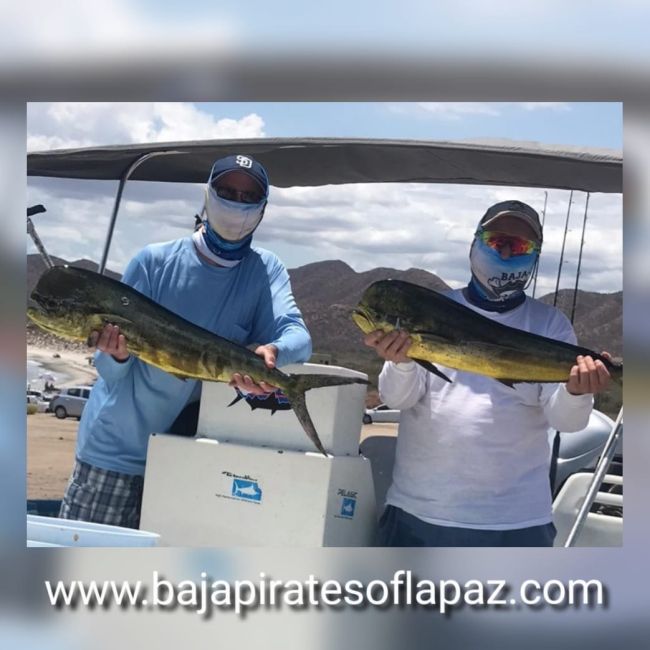 Mike Rosi also fished today and he shows off his pair of Dorado.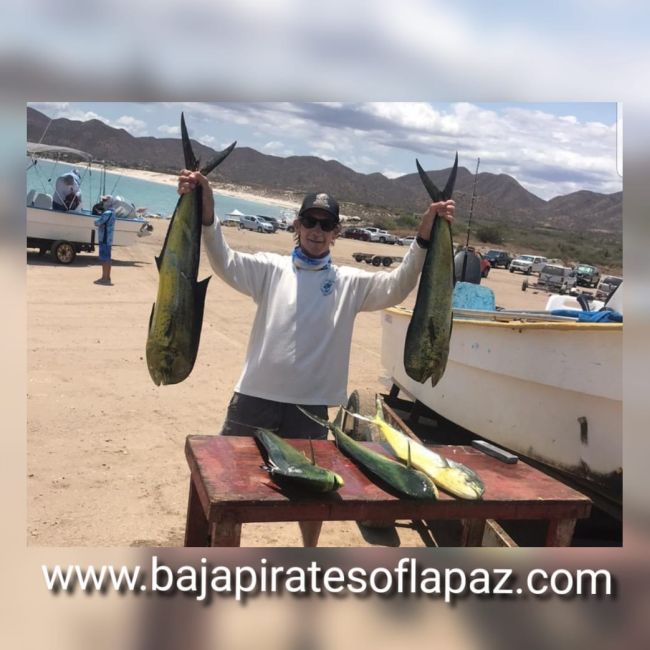 08/14/20
Another good day for those fishing with Baja Pirates today.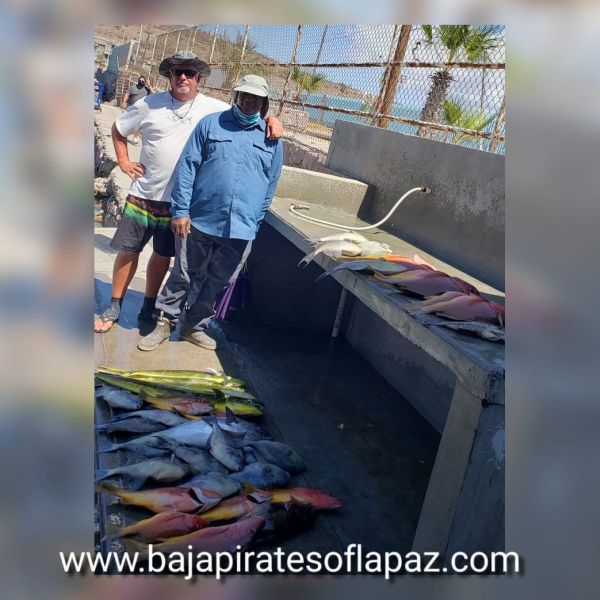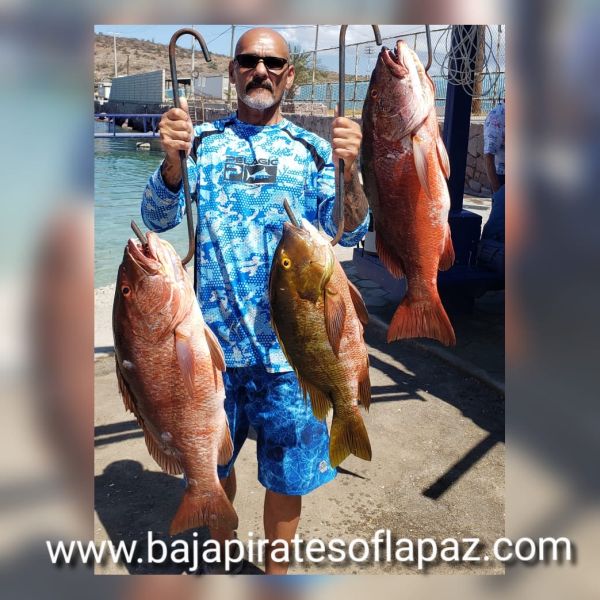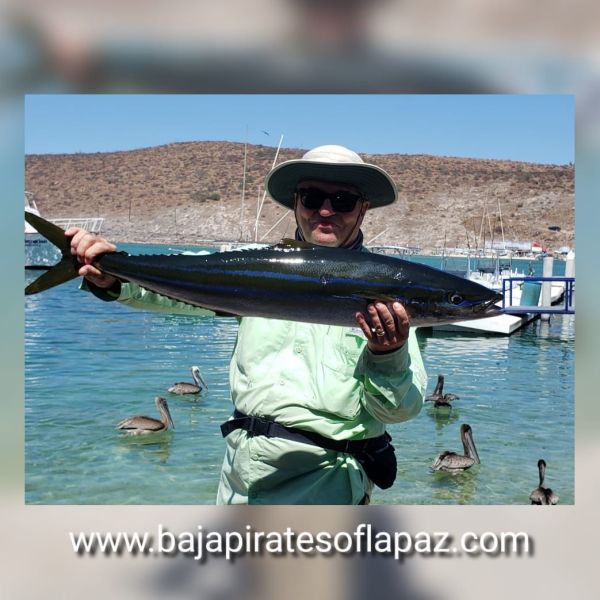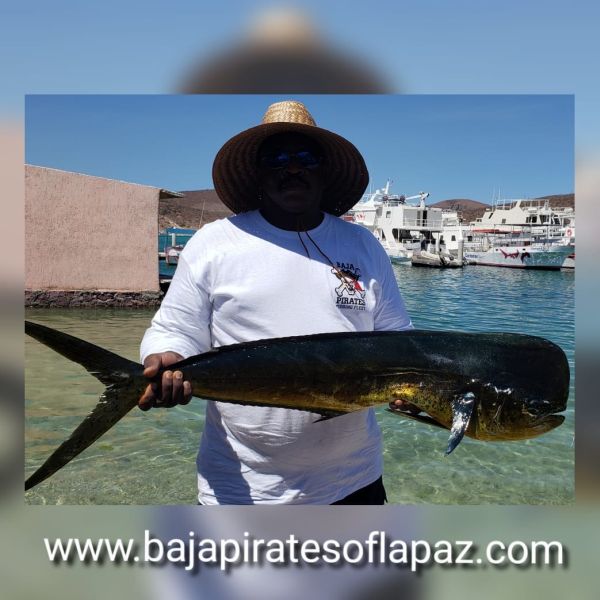 08/13/20
Today was a good day for all our friends.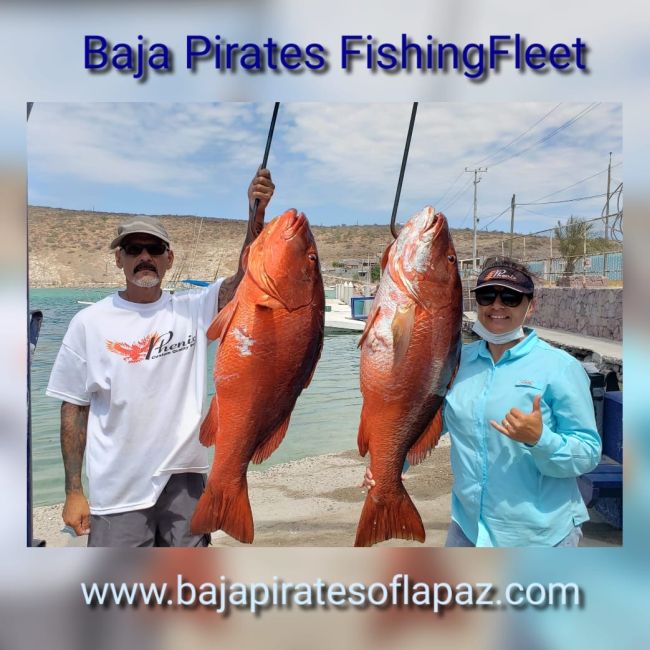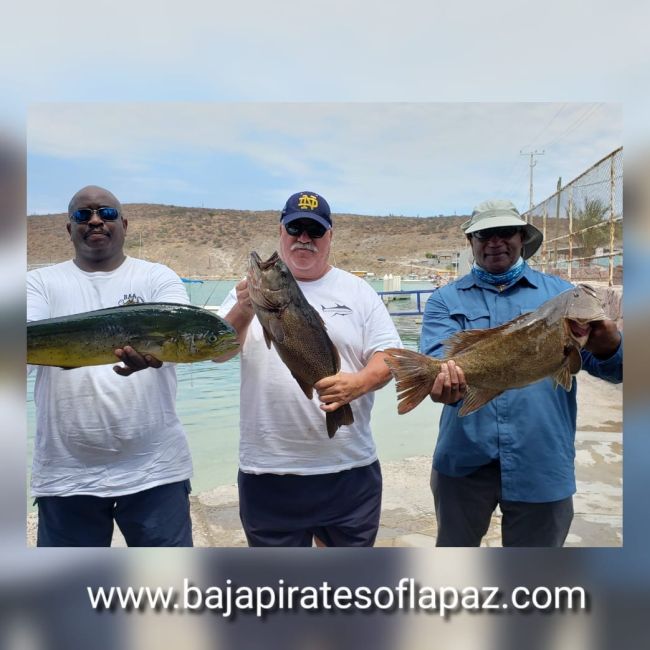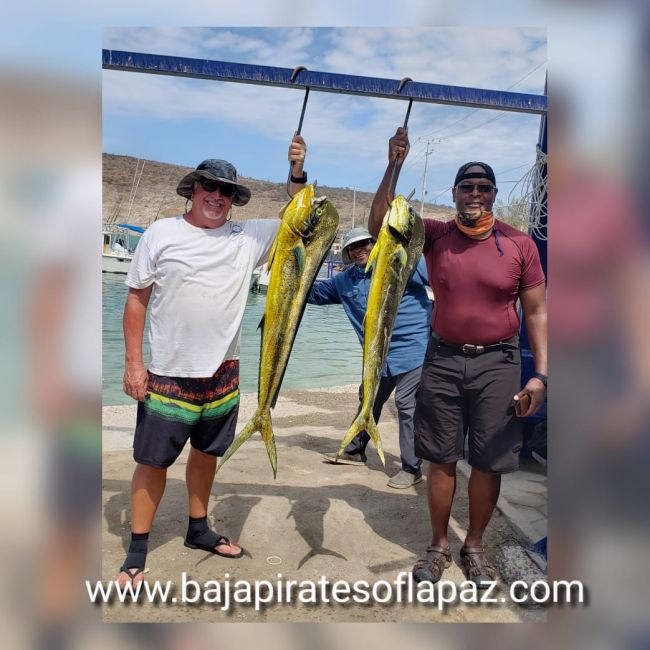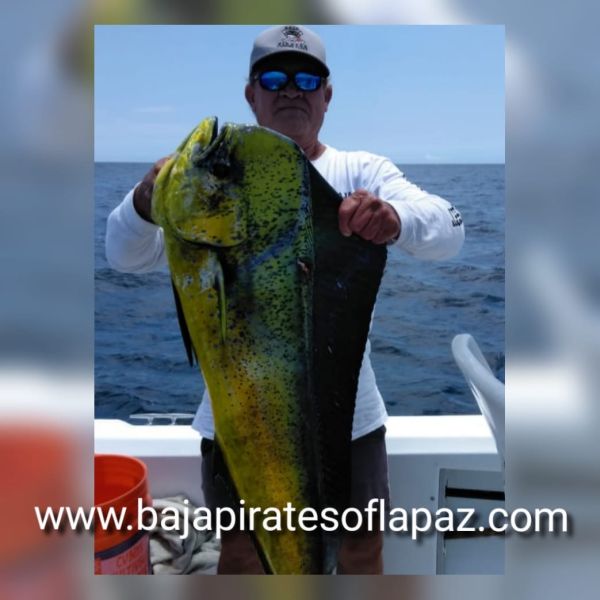 08/12/20
Patricia Santivanes and her husband caught a nice pair of Dorado today.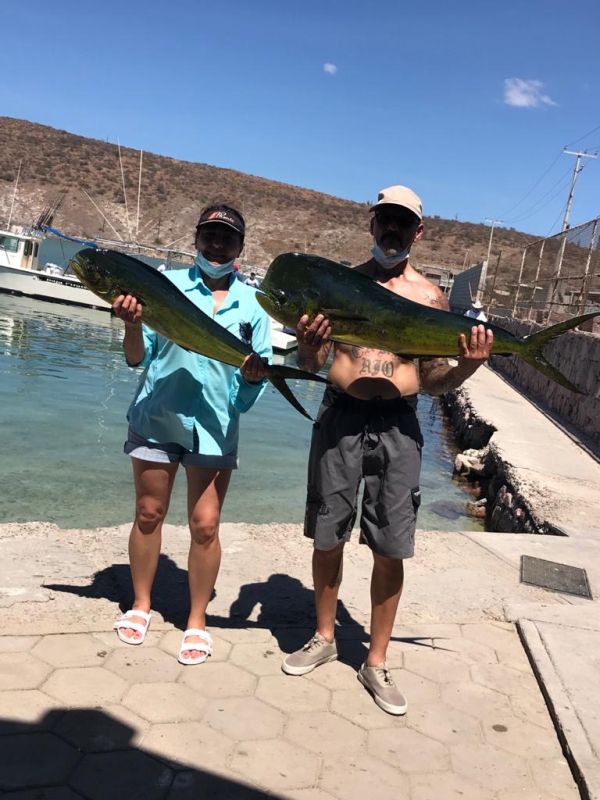 07/23/20
The Okimi group landed a nice Dorado today.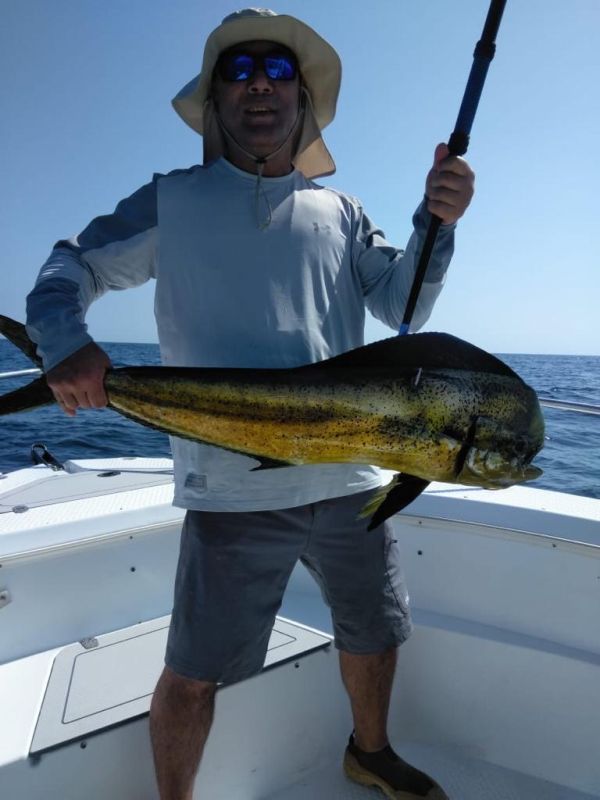 07/20/20
Joe Aciery and Ron Stomberg show off their catch for the day, then Ron shows off his very first marlin catch.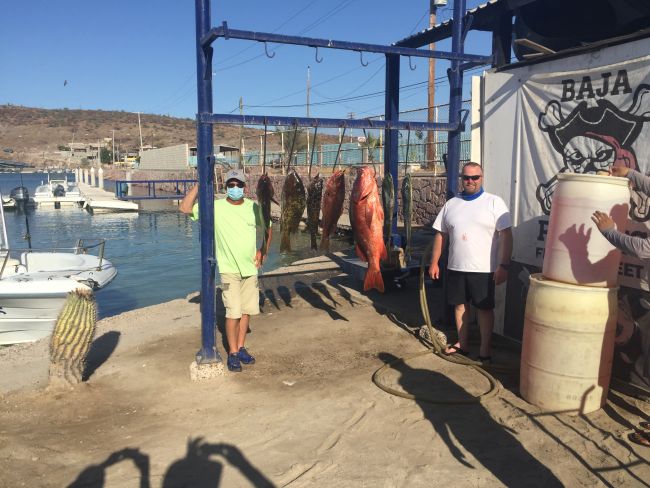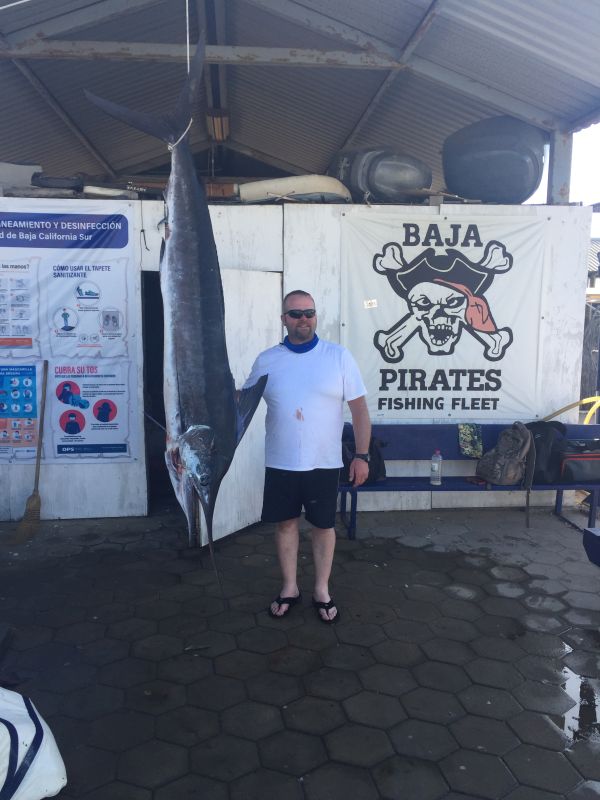 07/19/20
The Olivas group caught one bull and two female Dorado today.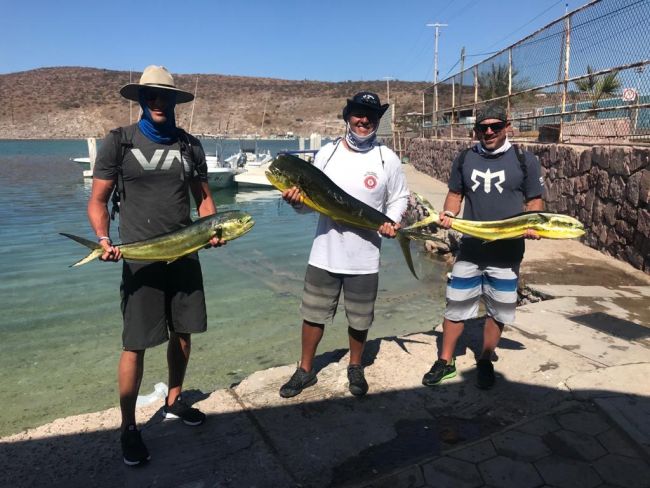 07/19/20
Arciery cuaght a nice Pargo today.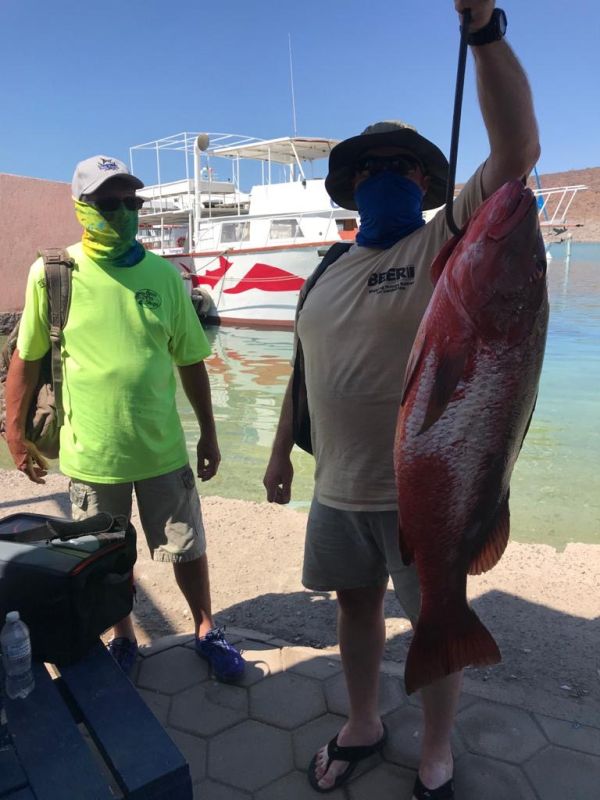 07/19/20
Glen's son caught a Dorado of his own today.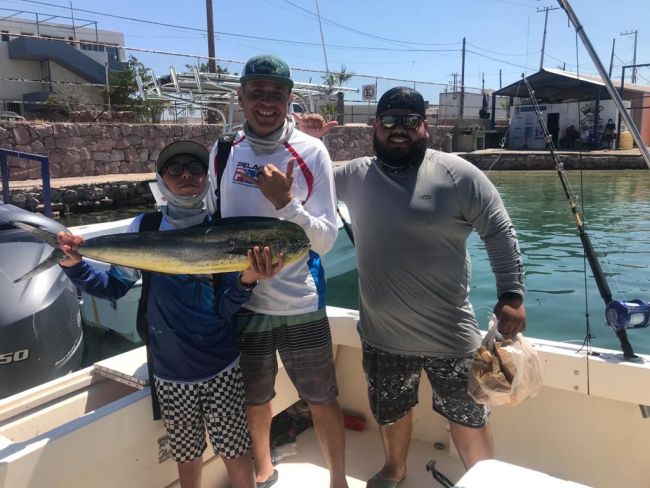 07/12/20
Glen Gomez family and frend caught some very nice Pargo out of the La Paz dock.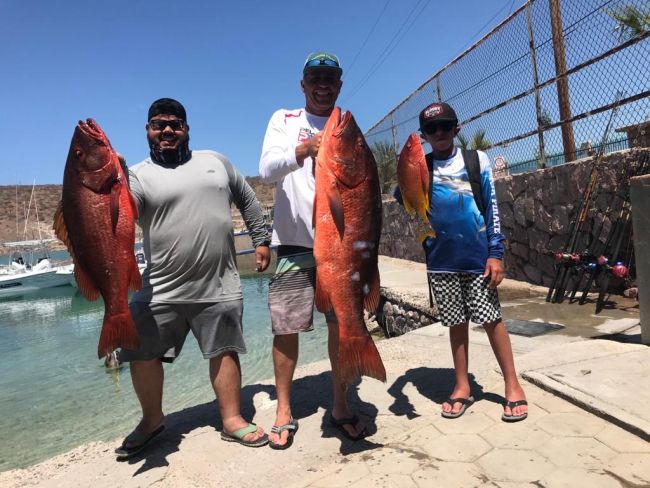 Also fishing today was the Ferguson group and they loaded their coolers with Amberjack and Pargo.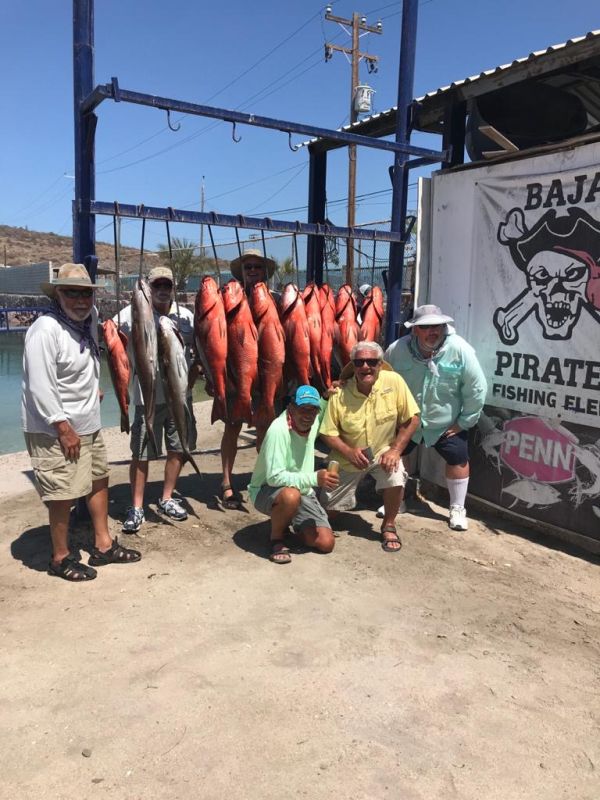 07/12/20
Well father and son Knovak did it again today out of Las Arena, what a catch!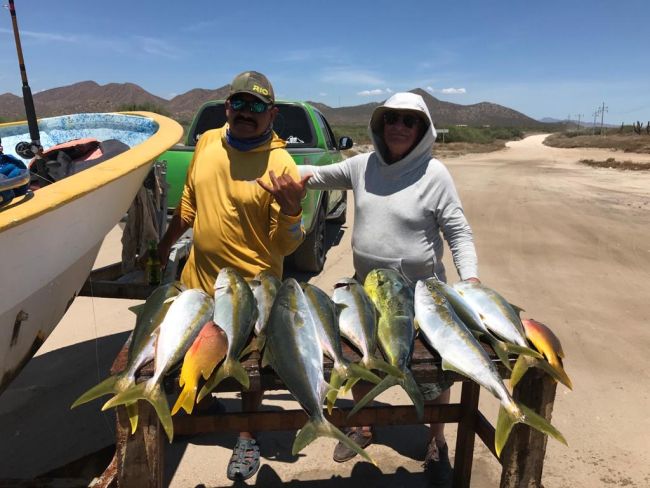 07/11/20
Athila Knovac and his father fished in Las Arenas and loaded up on Yellowtail and a Dorado.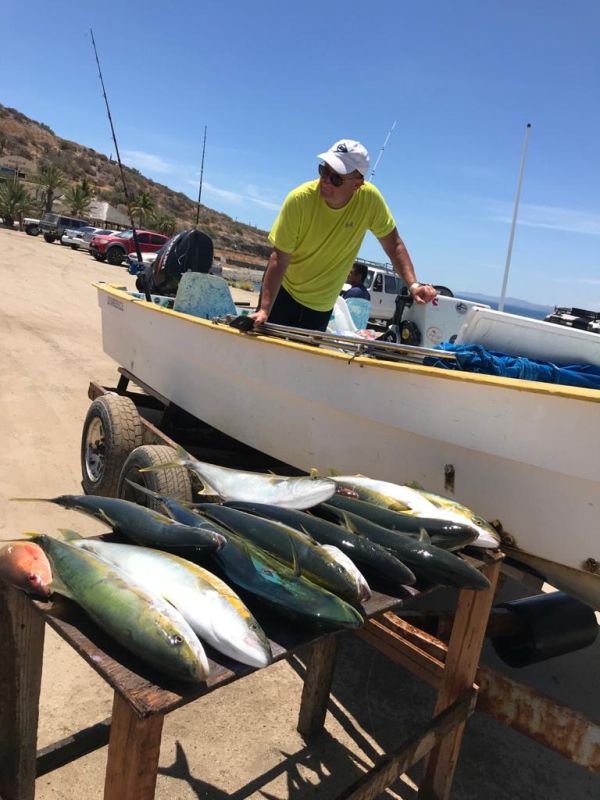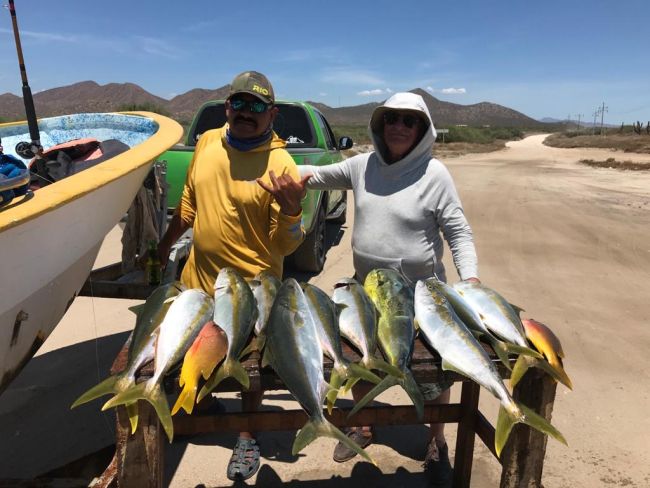 07/09/20
The "Catch of the Day" goes to this nice Dorado.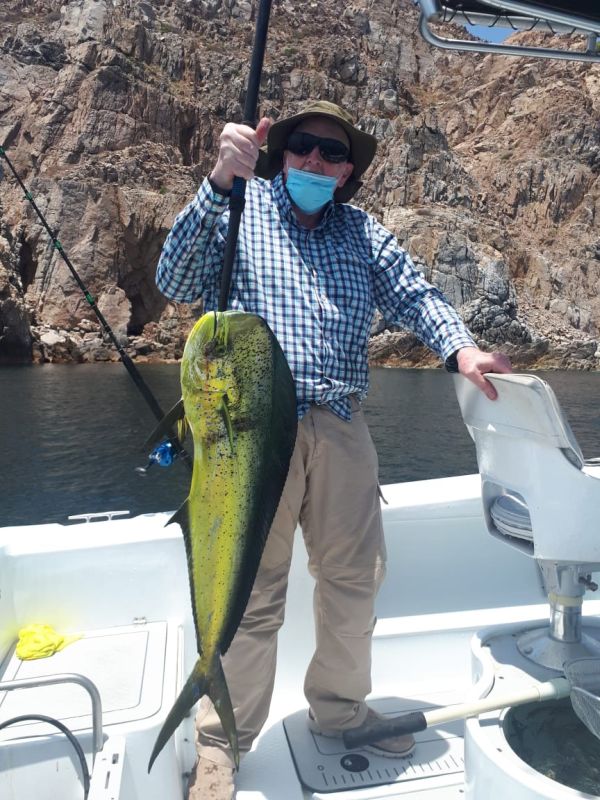 07/07/2
Ted Wolf had a good day fishing for Cabrilla and Pargo.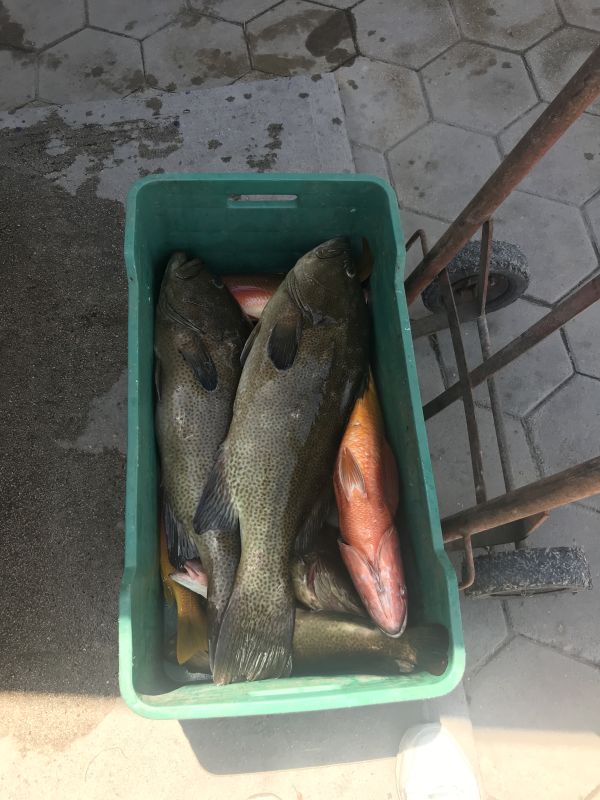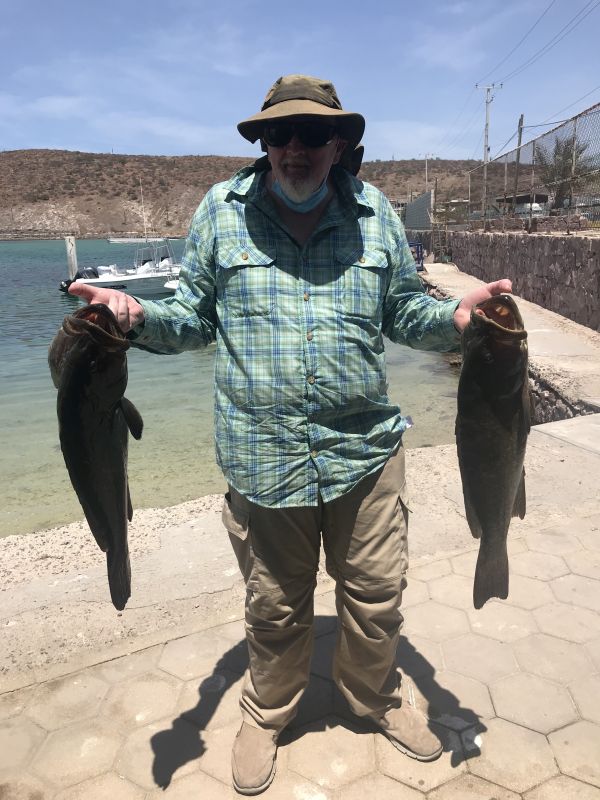 07/03/20
As reported before we are up an running and seeing clients. Today's "Catch of the Day" goes to a pair of big Dorado.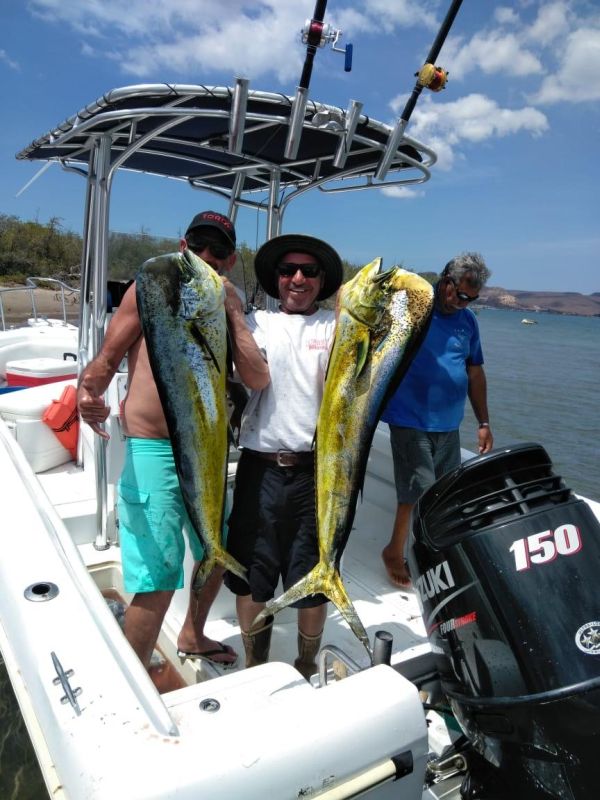 06/15/20
As scheduled La Paz has opened up again as of today. A welcome relief to all here in Baja California. Baja Pirates has also resumed business as of today but we need bookings if we are to survive this pandemic. As of today flights to Cabo are being run non stop daily from Los Angeles, San Diego, and Houston. The present airline schedules will open up direct flights To Cabo from Seattle, Portland, San Francisco and San Jose on Monday June 22nd. Flights are presently scheduled with no more than 60% occupancy and are very well managed. At the airport in Cabo they are covid monitoring all passengers upon arrival and the protocols in Mexico are very similar to the US only in Mexico these rules are enforced. Masks are required just as in California.
The really good news is the fishing report. There's fish and bait everywhere and no fishing pressure whatsoever. So the report is WFO today! The question is what do you want fish for? Dorado are thick as fleas in the bay. Huge grouper and Snappers are being caught at the local seamounts. Tuna showing up all around Cerralvo island. Marlin seen jumping all over in the channel. The next few months is going to be epic fishing here in La Paz. Today we went out and tested the waters and here is our results: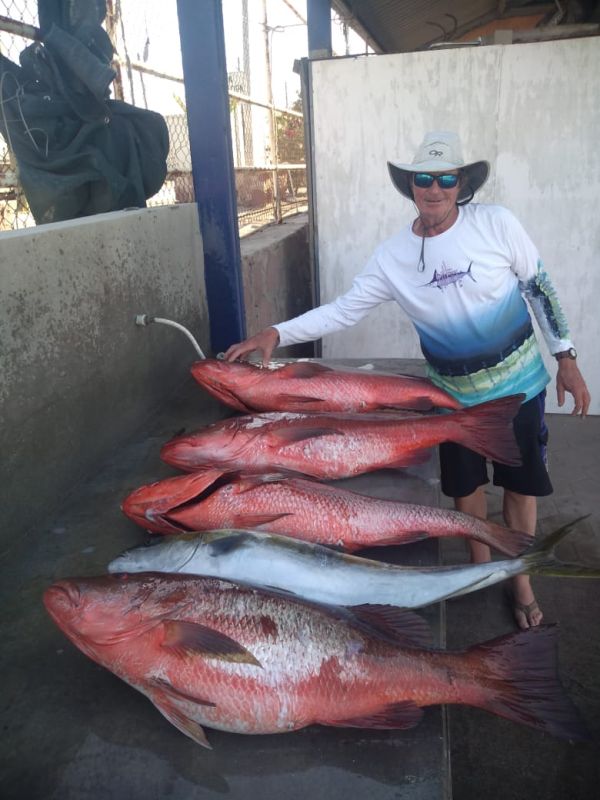 04/15/20
The first photos of clients have arrived and this one shows two happy guests with their bags packed with 27# of cleaned and frozen dorado. We have had several groups fishing ahead of them who didn't want us to take photos and we missed the opportunity to take these two guys' catch before they were cleaned. We will try harder to take ane show more of clients catch in the future Like the USA, La Paz is now under a shelter in place order. Casinos, restaurants, harbors and all public gatherings are closed or prohibited. The good thing is the virus has been slow in showing up here in southern Baja, lets hope that continues.
These new restriction and the spring winds have kept almost everyone on land. A few pangueros havee been out subsistence fishing and yes the reports is good to excellent for Yellowtaim, Snappers and Cabrilla. Bait is plentiful and fishermen are sarce. Now we just need to get back out there, although it looks like it will be June before we can retune to normal operations. at the moment we are scheduling our clients into the summer and fall season. We wish you all good health and happiness thru these trying times. The good news is fish don't get or carry the covid!
03/15/20
Russ McKnight had a great time fishing with us this week as you can see from his pictures.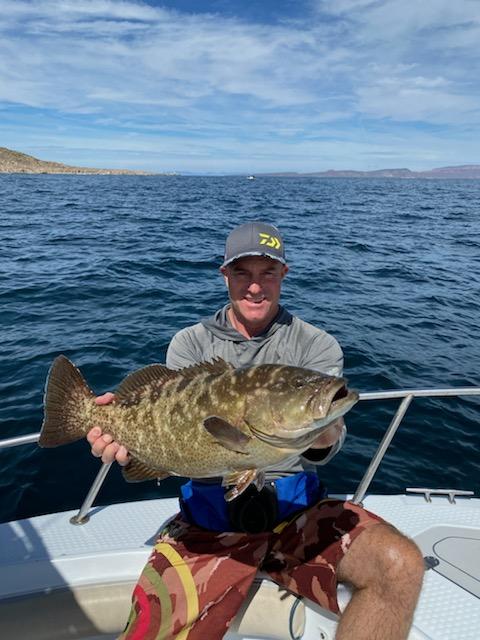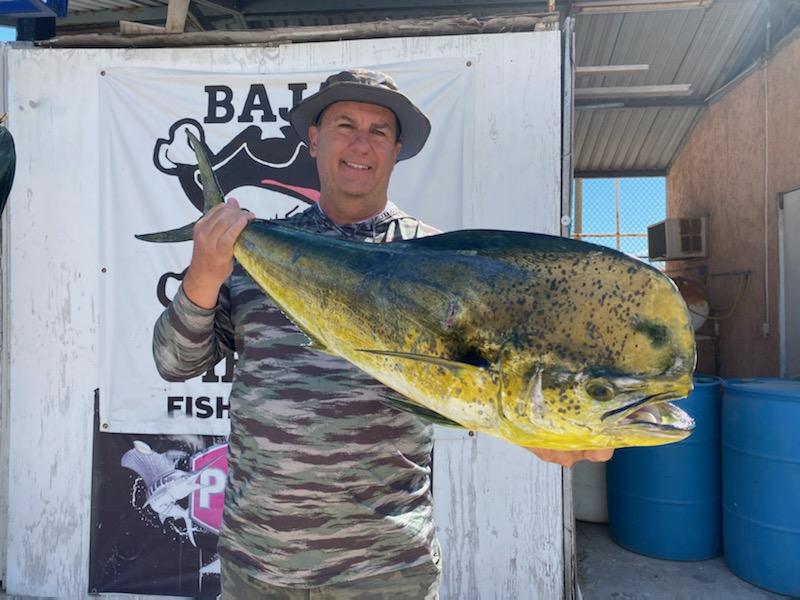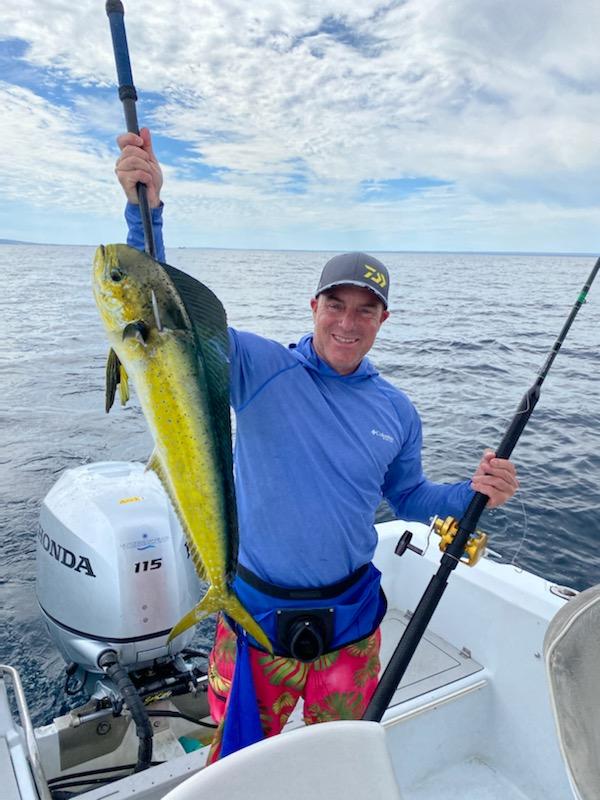 03/12/20
Jason Shearer shows off one of the Dorados he caught today.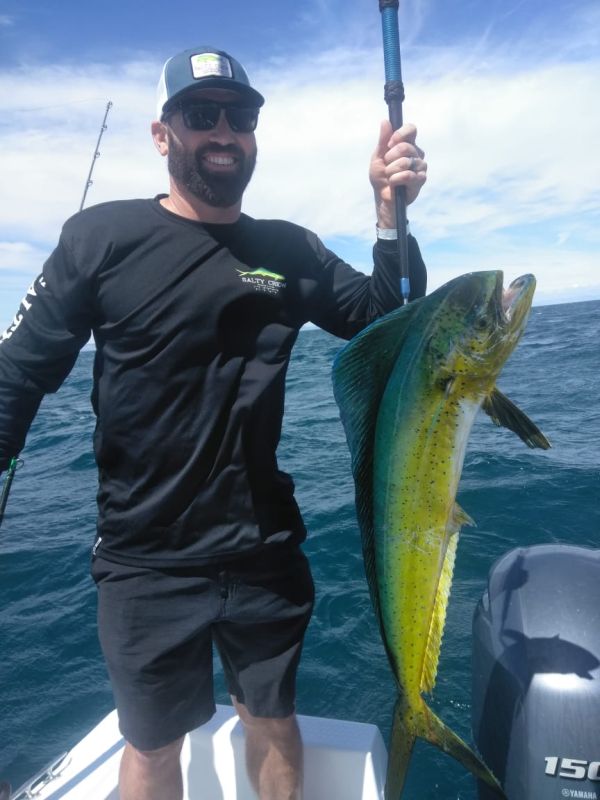 Derrick Wyatt also shows off one of his Dorados caught today.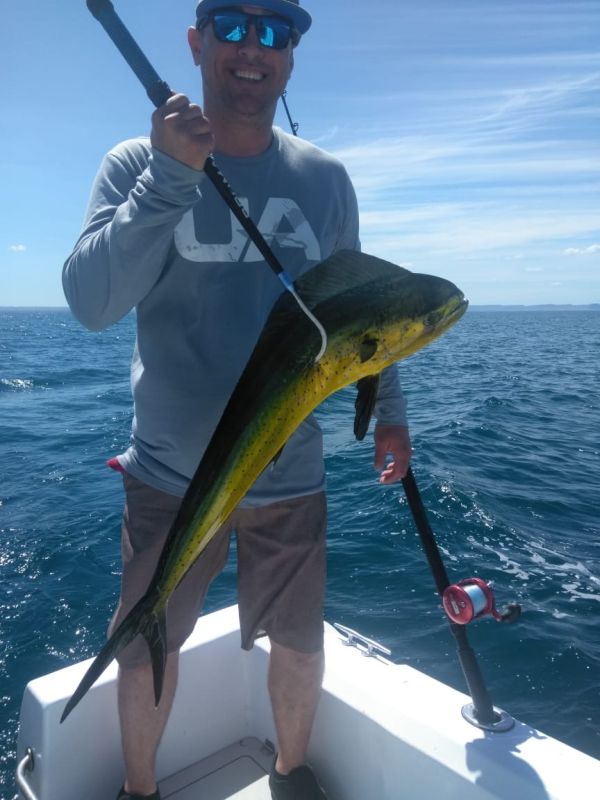 03/11/20
The guys from Mid Valley Construction loaded up on Dorado today.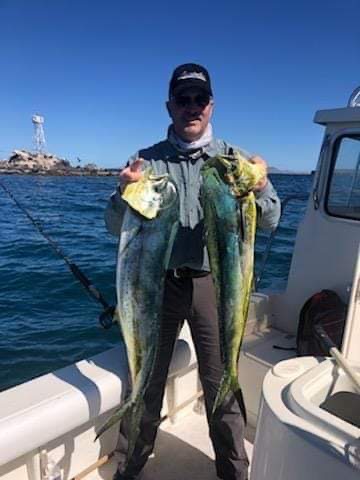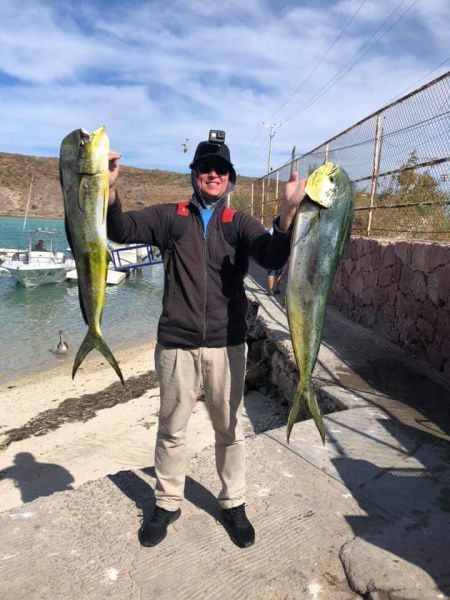 The first photos of clients have arrived and this one shows two happy guests with their bags packed with 27# of cleaned and frozen dorado. We have had several groups fishing ahead of them who didn't want us to take photos and we missed the opportunity to take these two guys' catch before they were cleaned. We will try harder to take ane show more of clients catch in the future.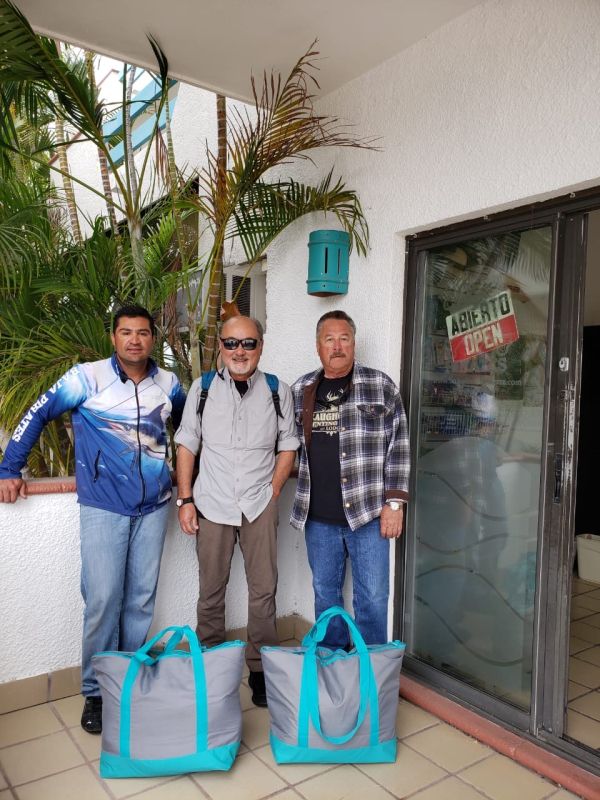 2020 Season Starter Report
The Baja Pirates fleet has been working this month preparing boats and gear for the spring season here in La Paz. Part of this preparation includes fish scouting trips when the wind settles. Last week Captain Luis and Captain Rico were out checking on bait and water conditions and the news is good. They found sardines, green mackerel and cosineros were in abundance within a few miles of our dock. Of course they couldn't resist a little fishing in the channel. They caught several nice 12 pound Dorados and chased a Marlin who was so full of bait he just wouldn't bite. Good signs this early so close to Pinchelinque and during a full moon phase.
Water temperatures are in the low seventies which is normal and the water is fairly clean. Outside air temps are in the mid 50's at night with pleasant daytime temps in the mid to upper 70's. In the next few weeks we will begin looking for the yellowtail and big snappers we are known for.
Whale shark trips here in La Paz have also been very good so far this year. There are several big sisters inside the bay and a couple of calfs with them. These fish are awesome and have provided quite a show for our whale shark clients. Everyone who has been out see them has returned tired as the calfs swim much faster and require some effort to keep up with. The Gray whale migration in Lopez Mateo is now in full swing. The whale numbers are down for the early season but we are all hoping more will arrive next week.
Reports from Las Arenas are mixed. Early February provided some excellent fishing for snappers, sierras and smaller sized yellowtail although the full moon seems to have slowed the action this past week.
On a final note there appears to be a new 360 peso "ecology tax" now being collected at the Los Cabos airport upon departure. Presently this is being called a voluntary tax and Captain Rico will check it out next week on his return to the USA. We will update you on this soon, so until then,
Tight lines mi Amigos y Amigas
BEST BOATS - BEST GEAR - BEST SERVICE - BAJA PIRATES!
Get the latest Baja Pirates fishing reports!